Here's a quick post to express a heart felt Whew! for our friends on the Turneffe Atoll off the coast of Belize. The eye of the powerful category 5 hurricane passed 70 miles north of the islands yet did minimal damage to the fishing camp on the ocean side of the atoll. What follows is an email we received this evening.
Dear All,
Thanks to everyone for their thoughts and concerns. Dean was a very close call but everyone here is fine and we weathered the storm very well.

We had only some minor dock damage and some litter on the beaches. We are in the process of cleaning things up and will be open and ready to go this Saturday. Hopefully, this is the last of it for 2007.
Kind Regards,
Craig, Karen & Staff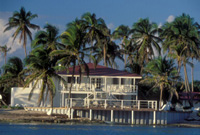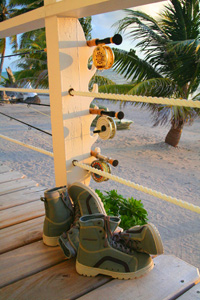 Turneffe Flats when the weather is good.
While the fishing at Turneffe is akin to nirvana, the real beauty of the place lies in its remote surroundings. Situated on the edge of the reef, the sun rises over the Carribean while waves crash over coral and bonefish tails catch glints of light in the distance. One of our coolest moments ever happened when a loggerhead turtle the size of our kitchen table surfaced next to our flats boat. We're relieved to hear our friends at Turneffe are safe and look forward to seeing them again.