Dry Fly Fishing in the Smokies
We're on the back side of Labor Day, the traditional end of the summer season. While it's still pretty warm here in East Tennessee there's a touch of fall in the air. Overnight temperatures on the mountain tops are beginning to dip into the 40's and Townsend is shrouded in a cool mist every morning. White oaks are beginning to bend under the weight of acorns and black bears have begun to started to feed up for the winter. After a long, hot summer we're looking forward to cooler weather and the good fishing that always comes with it.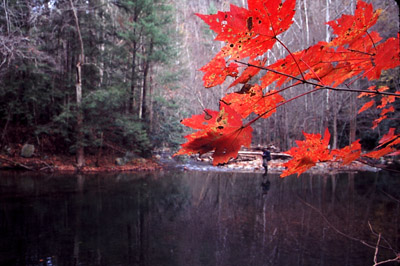 A fall scene we're looking forward to…
Anglers look forward to the spring season because of the great dry fly fishing but often forget that autumn also has some good hatches. Blue wing olives are the predominant insect that get trout looking to the surface. Many fly fishers are intimidated when they learn that these bugs are anywhere from #18-22, but there's no reason to fear small fly patterns. Most trout in the Smokies will take a #16 Parachute pattern in riffled water and this is far easier to see that a #20 or #22. The smallest flies become more necessary in calmer water where the trout get a real good look and have time to inspect the fly before eating.
Our best advice is to avoid blindly fishing long flat runs of water. Instead take a few moments to survey the run and watch for rising fish. Next get yourself into position for a cast, but do this while staying out of the water. Wading up the middle of a quiet pool is the best way to put the fish down. Move as close a you can on the bank, then wade slowly and quietly into position. Try not to get more than knee deep in the water to minimize your presence. It is often wise to wait a few moments before casting. Let any waves you stirred to settle and make sure the fish are rising as steady as they were before you got in the water. Finally, cast your fly to the risers. We recommend that you drop the fly no more than three feet upstream of the fish, but always leave the fly on the water regardless of where it ends up. Ripping the fly off the water as soon as it comes down is another sure way to put the fish down.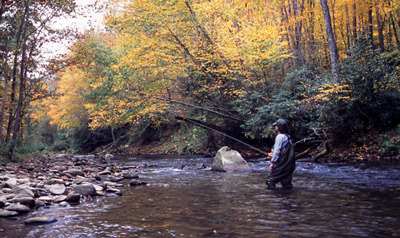 Wade slowly and quietly as you move upstream.
Our favorite fly pattern for this type of fishing is a #18-20 Parachute Blue Wing Olive tied with a fluorescent orange wing. The brightly colored wing makes the fly easy to spot on the water. Comparaduns are also good flies that fool fish and are easy to track on the water.
There are also good caddis hatches that occur sporadically. Again, these are small flies in the #18-20 range. These insects are a dull gray color and are commonly seen on large boulders near the water's edge. Fish will rise to caddis when the hatch and again when they are laying eggs on the water. Gray colored Elk Caddis in #18 are good for dry fly fishing, but don't forget wet flies. Specks in #16 do a good job of imitating the cased caddis larva. Small soft hackles are also good. They can be fished under an indicator, as a dropper under a dry fly, or even with a dusting of Frog's Fanny as a dry fly.
Our favorite streams to fish in the fall are Little River, the Oconaluftee River, and Hazel Creek. All of these streams have good numbers of trout plus some big brown trout.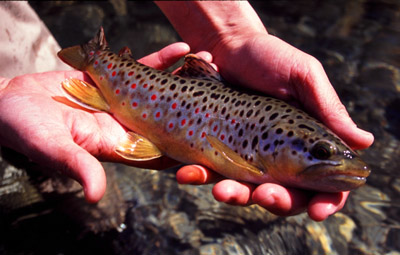 Brown trout take on even brighter colors in the autumn.
Good Conditions for Floats This Fall
We're often limited to what we can do in the way of floats in the fall season, but this year will be different. In a typical year TVA begins drawing down lake levels at Labor Day. This is to prepare for heavy winter and spring rains and prevent flooding. However, this year is quite different. The Tennessee Valley has seen all time low river flows this year and lake levels have remained low. Furthermore, record heat cause record power use and TVA had to generate power with the water available. Fortunately the heat has given way to cooler weather, but the lakes have already been drawn down and generation schedules will be excellent for fishing as power demands fall with the onset of pleasant weather.
In the fall we typically fish the Tuckaseegee in Western North Carolina because of its good water levels and excellent fishing. We'll still fish the Tuck as long as water conditions are good, but we should also be able to fish the Clinch this fall and possibly the Holston below Cherokee Dam. This provides us with a tremendous variety of water.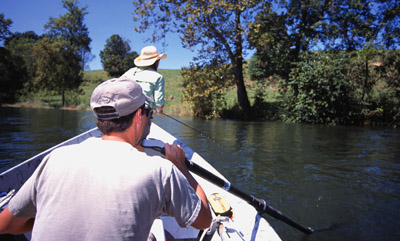 Streamer fishing is always fun in the fall, especially on the Tuckaseegee River.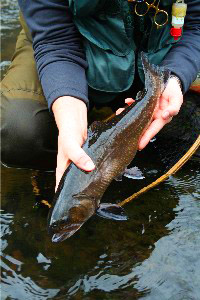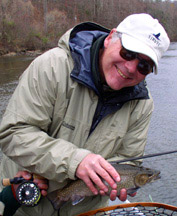 We see several brook trout like this every season on the Tuckaseegee.
The Clinch is primarily a river for nymphing, but midge and caddis hatches can bring fish to the surface. Additionally there are superb opportunities for streamer fishing if there is some generation from the dam. The Tuckaseegee is also best fished with nymphs but can provide lots of action for the angler casting streamers. Large browns, rainbows, and even brookies are found in the Tuck and it's not unusual for fly fishers to catch them in the range of 14-18" on streamers.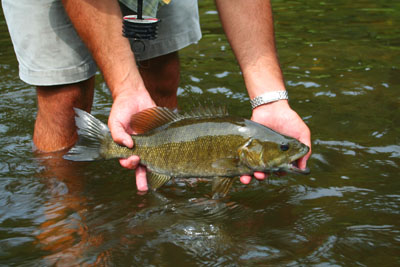 Don't forget the smallmouth bass! Good fishing for them continues into the fall.
We've experienced some superb fishing for smallmouth on the Holston River this summer. This is quickly becoming one of our favorite floats since smallies that average 12" rise aggressively to poppers. We've had several fish in excess of 16″. Conditions should only get better over the next few weeks and remain good through October.
Hope we see you on the water this fall!