Charity and I returned from our Western trip a couple of days ago and are gearing up for the busy fall fly fishing season in Tennessee and North Carolina. We intended to post a few reports from the road but a lack of internet access and an abundance of fishing opportunities kept us from getting that accomplished.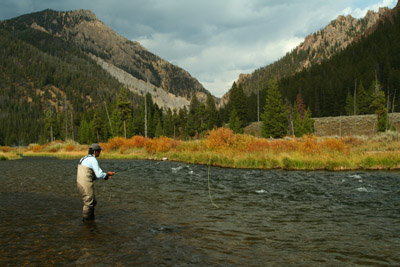 You make the call: This or a computer keyboard. Does it help if I mention there's no wi-fi hotspot?
We'll post a complete wrap up of our trip to the Slide Inn on the Madison as well as our experiences in Yellowstone Park, the Bighorn River, and the South Fork of the Snake.
Right now there's a mixed bag of fishing conditions in Tennessee and the Smoky Mountains. Water levels are at historic lows in the mountain streams throughout the region. This is making things tough, although not impossible. Tim Doyle was on the water yesterday and reported seeing a good number of feeding fish and even hooked a better than average brown trout.
The tailwater scene is looking pretty good. The Clinch River is currently running one unit at Norris Dam which is the ideal flow for a float. While this doesn't make for good wade fishing, the fish are actually more comfortable with one generator flowing and this water level is perfect for nymping and streamer fishing. In fact, it's not unusual to find pods of risers up on the surface taking midges. Small black caddis also emerge at this time of year.
Smallmouth fishing on the Holston River should also continue to be good since flows are moderate and water temperatures are perfect. Poppers will continue to work well and draw fish to the surface.
The Tuckaseegee in North Carolina usually starts fishing at this time of year, but flows are way too low for floats. Wade fishing should be good though.