Last week Charity and I looked at the calendar and saw that this was the last week we had with much time off. After this week we'll be guiding at least 5 days a week. (There's still some availability if you need a guide, but you don't want to wait any longer before booking a trip before Memorial Day.) We decided to seize the opportunity to take a few days and do some fishing for ourselves. We get to fly fish in Tennessee all the time so we headed to the North Carolina side of the Smoky Mountains to work some water we haven't fished in a while.
We started by fishing Deep Creek near Bryson City, North Carolina. That's a stream we used to fish quite often but now that we try, we can't remember the last time we cast a fly here. Deep Creek is among the better brown trout streams in the Smokies and has some beautiful water.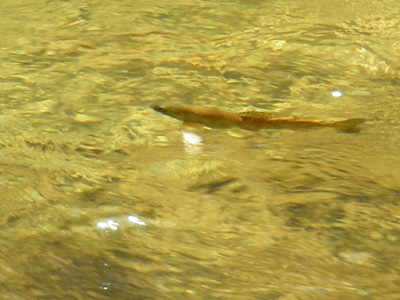 The weather was in a state of flux as an approaching front made for a stiff breeze. The fishing was noticeable affected. Very few fish rose to a dry fly and we had to work for the fish we caught on nymphs. The best rig was two #12 Pat's Nymphs fished in tandem. The Pat's Nymph is a scraggly fly that has weight tied onto the full length of the hook shank, then covered with gray, shaggy dubbing and finished with a collar of brown hackle. It's one of my favorites since it's a quick tie, highly effective, and takes a beating without falling apart.
The next morning we decided to fish Noland Creek. It's been a couple of years since I've fished Noland. Usually when we head in that general direction we end up fishing Deep Creek, the Tuckaseegee, or the Nantahala so it seemed like a good opportunity to re-acquaint ourselves with this beautiful stream.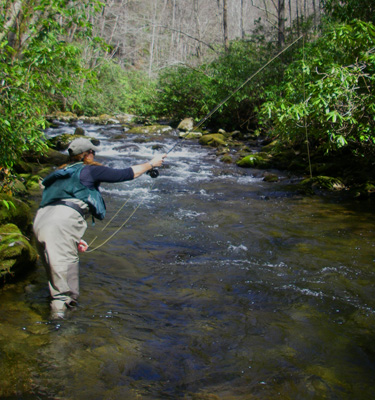 Noland Creek is a medium sized trout stream with only trail side access. It's mostly pocket water with a few bigger pools. I chose to stick with nymphs while Charity started the day with dry flies. There wasn't much difference in our success rate. She was hooking trout on dries about as fast as I was hooking them on nymphs.
The fish were generally small, mostly 6-8″, but very active. Charity did rise one very nice fish out of the run seen above that was at least a foot long, but the brown had a set of teflon lips and the hook didn't stick. Most of the fish we hooked were rainbows, but we each land a couple of browns as well.