Spring is truly here in East Tennessee and fly fishing has been great this week. The dogwoods are starting to bloom, hatches are taking place on the rivers, trout are rising, and even the smallmouth bass are beginning to take flies.
We started the week in the Smokies. Greg and Frank Norris walked into the back country of the Smokies with me and we had a great day of fly fishing. We started the day fishing nymphs but made the switch to dries by lunch time. The weather was beautiful and the fishing was excellent. We caught more rainbows than anything, but saw a few browns.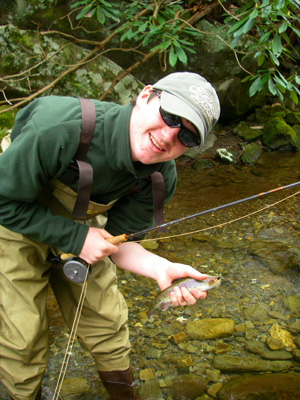 Frank caught this nice Smoky Mtn rainbow on a Bead Head Pheasant Tail
But, that's not all the fishing we've done. I floated the Holston yesterday with Jim Petty from Michigan. Nymphing was slow but steady, picking up a trout every so often. I switched Jim to a streamer and the uptick in action was immediate. He even caught a pretty decent smallmouth bass on the streamer which got me thinking. about the possibilities there.
By lunch caddis were steadily hatching and trout were rising well in the riffles. Jim caught his best rainbow of the day, a 15 1/2″ specimen, on a #18 Elk Caddis. Jim is a real smallmouth nut. In fact, he even inquired about the possibilities when he booked his trip. Early April is a tad early for consistent bass action with a fly rod so I took him to a lower section of the Holston where trout are plentiful but bass are present.
After catching a good number of trout on a dry fly Jim switched to a brown and orange Clouser Minnow. While he was still hooking trout I began choosing promising smallmouth lies for him to cast to. By the end of the day Jim had boated 8 smallies, 2 of which were quite nice. We measured one at 15 3/4″ and another at 15″ long. Most were about 11-12″ long and chunky.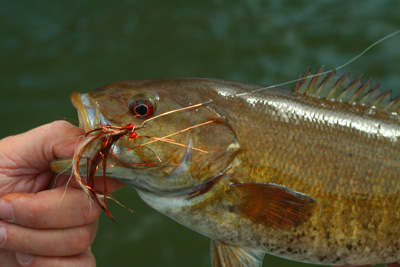 We've also heard excellent reports from the Clinch and Hiwassee Rivers. Plenty of trout are being caught on small nymphs on the Clinch; even a few big ones. The Hiwassee has some pretty good dry fly fishing right now and generation schedules are ideal for wading. We've heard of some real nice fish downstream of Reliance.