We've entered that short time frame known around East Tennessee as "Dogwood Winter". It's the brief cold snap that always seems to coincide with the blooming of dogwood trees. There's even a light dusting of snow on the crest of the Smokies while shades of light green are creeping up the slopes from the lower elevations. There was 2″ of snow at Newfound Gap this morning and 5″ on Mount Leconte.
We can also expect another cool down, "Blackberry Winter", to coincide with the blooming of the blackberry bushes. This is usually a more mild cool down that also lasts for a couple of days.

Snow on top of Thunderhead Mountain as trees bud out on Rich Mountain in the foreground
Dogwood blooms: A sure sign of spring and an accompanying cold snap
Fly fishing has continued to hold up nicely in spite of the cold weather. I took a pair of anglers, Christian and Jim, up the river above Elkmont on Sunday as the cold weather began to set in. Dry fly fishing didn't hold much promise, but the trout continued to take nymphs all day long. A few snow flurries fell through the day.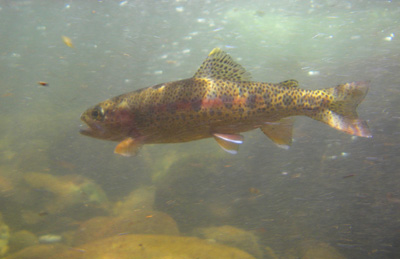 Expect trout to continue scanning the currents for drifting nymphs
Today is the last day for temperatures to be cool. We can expect 60's and 70's by the end of the week.
The tailwaters continue to fish well. The Clinch and Hiwassee both have superb schedules for waders. The Tuckaseegee River near Dillsboro, North Carolina also has favorable conditions to catch some nice trout in a big river. We like to float this river, but flows are clearly in favor of wading right now. The caddis hatch on the Holston should only get better in the next couple of weeks.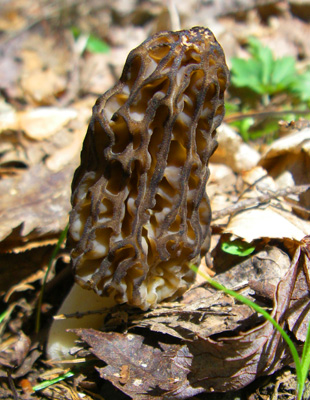 Morel along a Smoky Mountain stream