It's been a while since we've posted a report. First of all, let me assure you it's not because there's no fly fishing to be done here in the Smoky Mountains and East Tennessee. In fact we've been so busy we've found it tough to find time to sit down and type up a report.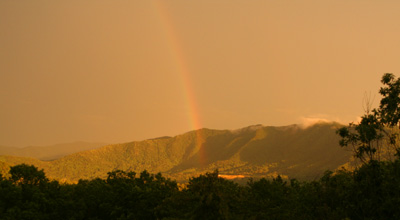 Your moment of thunderstorm zen from Townsend, TN
Water levels are getting low, but they are much better than they were last year. In fact, while we're getting close to 4″ short on rainfall for the year, we were about 12″ behind at this time last year. We've also had some good rains in the past few days. They didn't bring a dramatic rise in stream levels, but did improve things. More pop up thunderstorms are forecast for the weekend, so I expect we should hold around this level for a while.
We're in our typical pattern of fishing higher elevation streams in the Smokies. Little River is fishing upstream of Metcalf Bottoms, but we prefer to hike in above Elkmont for the most action. The West Prong of Little Pigeon is fishing extremely well as it always does in the summer. This stream can be treacherous to wade in many places so be cautious. The Oconaluftee is also fishing quite well. We've spent a good deal of time there lately as well. Closer to Townsend Tremont is fishing pretty good. It can be pretty crowded at times. I'm guessing the local fly shop is steering people that way. We're catching some nice fish up there, plenty in the 7-9″ range and a few better. Thunderhead and Lynn Camp Prongs are our local pick for good fishing along with some solitude. We've been up to Sam's Creek a few times and caught a ton of brookies. None of the brookies have been very big, but it's a beautiful stream with plenty of privacy and a fair amount of casting room for a small stream.
The tailwaters are fishing well if you can catch a favorable generation schedule. We've been on the Clinch few times recently and doing well and midge pupa and small beadhead Pheasant Tail nymphs. Brook trout are making up most of the fish we catch with a couple up to a foot long. There are some really nice rainbows and browns this year, the best we've seen in a few years.
The Holston is getting tougher to fish as TVA has bumped generation quite a bit. The water is still ice cold and the fishing is great when we find the right schedule. Caddis are still hatching on the upper river, but nymphs and small streamers are the consistent way to stay in fish. Smallmouth are getting more active every day on the lower river, but still a little sluggish with the cold water temperatures.
The Hiwassee will provide a good bite, but the size of fish is on the small size this year. We've floated the river a few times and had a great time, but keep you expectations in check as far as size goes.
We haven't made the trip up to the South Holston and Watauga this season, but have heard great things about both. Right now the South Holston is fishing better when the water is off, although that should change shortly and Sulphurs will hatch in good numbers during generation mid-day. The Watauga is always consistent and provides schedules that work for waders and floaters. Most of the fish are being caught on beadheads, but watch for a few caddis and craneflies on the surface.
We're preparing a newsletter that we hope will be out in a few days. We also expect to get a few more reports posted in the coming days and weeks.