Fisheries biologists at Great Smoky Mountains National Park are planning the most ambitious restoration of native brook trout they have ever undertaken. Lynn Camp Prong, in the Tremont section of the Smokies, will be restored upstream of Lynn Camp Cascades.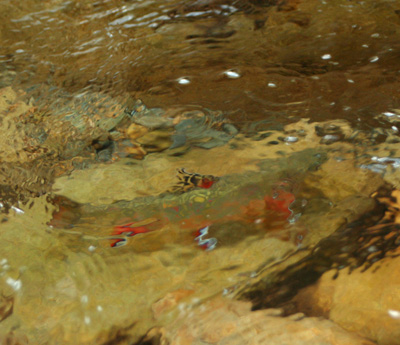 Brook trout will soon be common in Lynn Camp Prong near Townsend, TN
Brook trout were the exclusive gamefish present in the stream before logging operations began in the early 1900's. The highly destructive practices of the period took as much a toll on the streams as they did on the forest. Only remnant populations of native fish remained in the far headwaters of the stream and in Sam's Creek, a neighboring stream. Rainbow trout were stocked to replace the missing brookies and their numbers sky rocketed as the forest recovered. In fact, the stream has become a favorite for many fly fishers who enjoy dry fly fishing in a small stream environment.
Lynn Camp Prong is an ideal candidate for restoration. First of all, the large Lynn Camp Cascades, about 85′ tall, will prevent upstream migration of rainbow trout from downstream after the current population is removed. There are also several populations of brook trout in the immediate area that can be used to repopulate the stream. A current restoration on Indian Flats Prong was conducted with brookies remaining in upper Lynn Camp. These fish, combined with brookies from another small tributary, Mark's Creek, plus fish in neighboring Sam's Creek will provide native bloodlines for the restoration.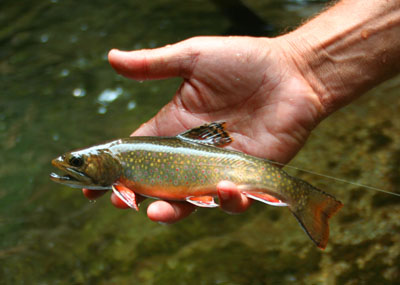 We may catch brookies like this one out of Lynn Camp Prong in a few years.
Any fish remaining in the stream will be removed later with antimycin, a chemical that is toxic to trout. Antimycin is the favored chemical for trout removal since it breaks down quickly and is harmless to non-aquatic species. In fact, the previous Sam's Creek restoration took a couple of tries since the antimycin was neutralized too quickly to have much effect.
The stream will close to all fishing during the restoration which will begin later in the year and continue for a number years. Biologists will monitor trout populations on the stream after brook trout are introduced. The stream is likely to be opened to fishing once planted brook trout have several seasons of successful spawning to fully populate the stream.
In case you haven't heard, Sam's Creek has recently been opened to fishing. This stream which shares a common trailhead with Lynn Camp Prong was restored several years ago by Smokies fisheries biologists. We recommend you check it out! Sam's Creek is a tributary of Thunderhead Prong. Park at the end of Tremont Road, cross the foot bridge at the parking lot and take the path on the right. It's about a half mile to to the point where you must wade across the Thunderhead. Stay on the path on bear left. The trail is pretty narrow but follows the stream.