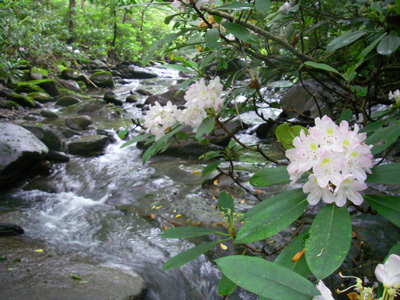 Nobody has an office with a better view…
It's been a long season of guiding so far. I don't think there are many tears shed for us while we spend most of our days on trout streams in the Smoky Mountains or floating the tailwaters in a drift boat. Still we don't get to actually fish when we're guiding. It's the sacrifice we have to make for so spacious an office, but a day off to actually cast a fly to fish is just as much a treat for us as it is for you.
I've been making the long circuit around the Smokies trying to hit as much of the recently opened brook trout water that I can. The park service closed most of the streams with brook trout in 1975 to protect their populations. However, recent research has indicated that sport fishing has little if any impact on trout populations in the Smoky Mountains and the streams were re-opened to fishing a few years back.
As I've been hiking around the park to experience as many of these places as I can I've reached the conclusion that most of the streams are so far back in the sticks that no one would have fished them much even if they were open. That's certainly the case now. Many of the streams are surprisingly large, not the claustrophobia inducing rhododendron tunnels most anglers imagine.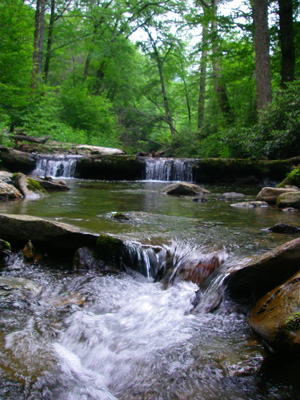 This brook trout stream remains relatively large for miles
I recently went back into a stream that was about as good as it gets. I'm not going to name the exact spot. The main reason is that is was a pretty tough place to reach and I'm not sure if it would do any angler's health much good if they attempted to replicate the day. The total mileage on the day was 13 – 14 miles round trip. Several miles were in the stream bed.
I hiked 5 miles up a relatively underfished stream before I got in the water at a point where it and the trail part ways. I caught a blend of rainbows and brookies plus a couple of stray brown trout. My main intention was to fish as far up the stream as possible in a day so I skipped over a lot of water to cover ground. After a while I only caught brook trout.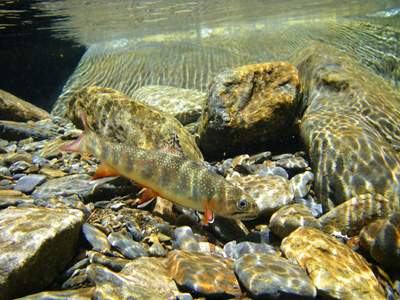 The reward for the long hike…
The stream flowed through old growth forest.  Many of the poplars and buckeyes were huge. I'm sad to say that the hemlocks here are on the way out, victims of the woolly adelgid. At one point late in the day I could make out spruce trees further up the slope, a sure indication that I was at 4000′ or higher. Many of the fish were at least 7″ and I got strikes almost anywhere I put the fly. In fact, fish would often move 3′ or more to take the fly, a big contrast to more pressured water like Little River where good fly placement is critical.
There was one striking landmark along the way that I'll mention. Anyone who has been there will certainly know the spot. As I made my way up the stream I came upon what looks like the remnants of a jet engine from the wreckage of a downed fighter plane. A number of figher planes have wrecked in the park over the years as it's under military airspace. We'll occasionally see aircraft streaking up Calderwood Lake lower than the surrounding ridges. I know of fly fishers who have seen this. I fished quite a distance upstream of here.