We had some soaking rains over the weekend and water levels are pretty good right now in the Smokies. Fly fishing last Sunday was a bit streaky as the morning started off rainy, weather cleared around noon, then a strong front with thunderstorms closed in during the afternoon. A number of runs were pretty stingy on upper Little River, but others were red hot. Nymphs consistently drew the largest number of strikes.
Our local tailwaters have been a little inconsistent regarding flows. Some days feature positively awful generation schedules that don't allow much in the way of fishing while other days have great schedules. Right now the Clinch, South Holston, and Watauga have the best schedules for wading. The Hiwassee is in the middle of its summer schedule which is great for floating. Give it a try if you have a pontoon but be sure to wear a PFD. The river has a few dicey spots plus it's the law on that river.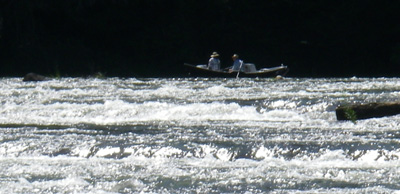 Mark Scarbrough of Southeastern Anglers advises a student rower how to negotiate the Stair Steps on the Hiwassee
I floated the Hiwassee in our Hyde drift boat this past Monday. Unfortunately the water was pretty stained from water coming in from the river bed upstream of the powerhouse. Fishing was as slow as I've seen it there, but those were just temporary conditions that I'm sure improved by the next day.
Schedules on the Holston River have been great for smallmouth fishing. Fly fishing with poppers is great at this time of year.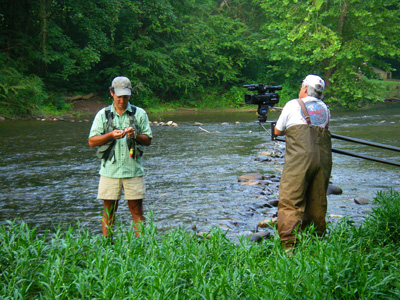 "Make up!!!"      Ian at work?

This morning I met a small crew from Knoxville's Channel 10 News. They're in the process of creating a promo that incorporates a number of East Tennesseans at work. The commercial will begin airing the week of the Olympics and continue for some time after that. I think you'll see me for about 2 seconds.
One last thing – We've gotten a few calls from folks looking for a used drift boat. Our old friend Chuck Robinson in the Nashville area has let me know he's looking to sell his Hyde lo-profile. He's asking $5500. Shoot him an email if you're interested and he'll give you the details. His address is crobins@rei.com.