I was able to squeeze in a day of hiking a fishing between several days of guiding this week. I've been trying to fish as many of the formerly closed brook trout streams as I can. This has been something of a quest over the past few years since these streams opened. The vast majority of these streams are pretty far back in the sticks. The tributaries of Big Creek were my target this week.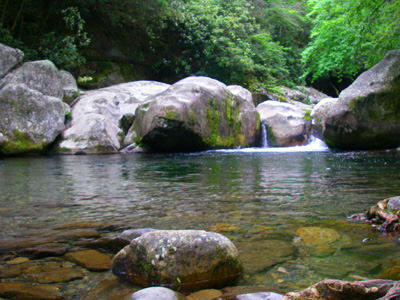 Midnight Hole on Big Creek
These streams were originally closed back in 1975 because it was believed that the Southern Appalachian brook trout was in serious decline and fishing was a leading cause. After recent studies were conducted, combining creel surveys with trout population surveys, it was found that droughts and floods were the primary forces that shaped trout populations. Furthermore, anglers using legal methods rarely caught more than 10% of a stream's trout population in a year. Similar studies in other wild trout streams in the Southeast even suggest similar results when fisherman used bait or artificial lures.
The upper Big Creek watershed was still a place I had yet to sample, with a number of streams holding brook trout. If you haven't been to Big Creek you're missing a real treat and I have to admit passing it by on far too many occasions.
Big Creek is just inside North Carolina, only a short drive up the Pigeon River out of Newport, Tennessee. If I'm heading to Newport with a fly rod you can usually be sure I'm hunting smallmouth bass. If I continue on up the river out of Newport with the Smokies in mind I'm typically thinking of brown trout in Cataloochee Valley, another 35 minutes or so up the road from Big Creek.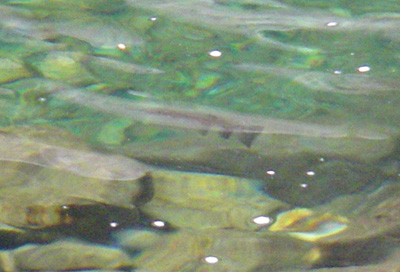 I saw a number of fish in Big Creek as I hiked up the trail
It's been a few years since I've been to Big Creek and I immediately struggled to remember why. It's easily among the most scenic streams in the park and fits the profile of anyone who enjoys fishing after a short hike. Anyone who fishes here will need to plan on walking a little more than a mile before getting in the stream, but after that access is pretty good from the trail for several miles.
I walked up to Walnut Bottoms before getting on the Swallow Fork Trail. Access was marginal for much of the way, but not too bad after about a half mile.
Swallow Fork, a dandy brook trout stream with a few rainbows mixed in
The stream was predominantly brook trout with a few rainbows along the way. After a little bit of fishing here I headed back to Big Creek and continued on upstream. I couldn't resist fishing Big Creek just a little bit and caught a few nice rainbows and a few brookies as well.
In the past I don't remember catching any brook trout around Walnut Bottoms. I've noticed over the past few years seeing more brookies further down in a number of streams. It would seem this trend is also occurring on Big Creek.
Heading further into the backcountry I found the mouth of Gunter Fork. This stream was quite similar to Swallow Fork in size. It was also a blend of brookies and rainbows.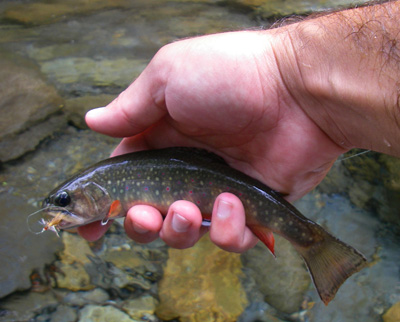 Just what I came for…
By this time the skies had darkened and thunder was rolling off the mountainsides. I walked about half the distance back to the trailhead in a torrential downpour but was glad for the rain. After last year's drought I don't think I'll ever mind a rainy day half as much as I used to.
I was happy to see the car on my return. I put in at 15-16 miles of hiking plus several hours of fishing and was feeling it the next morning.