It's been an extremely busy week here in the fly fishing mines of the Smoky Mountains and East Tennessee. We've spent several days guiding anglers in some out of the way streams in the Smokies, helped park biologists monitor a brook trout stream one day, and did a float on the Holston on another.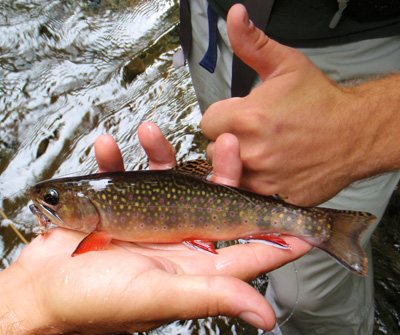 I took Ethan McClellan and Jared Rice out for a few days of walk-in fly fishing. Their main priority was to fish some water that is off the radar of the common angler. These are among my favorite trips to guide, especially in August. The water is cold, the surroundings beautiful, and the fish are eager. The guys also wanted to catch some brookies. The first day we hit one of my favorite brook trout streams, but one I rarely guide. Ethan and Jared are in great physical condition, probably better than me, so I had no reservations about taking them to a stream that required a bit of walk followed by a full day of bouldering.
Ethan notified me that he was deathly afraid of snakes. In fact, he's nearly fainted at the mere sight of a snake in the past. As usual, my response was that we might see a harmless water snake and sightings of rattlers and copperheads were quite rare. Our second day on the water took us up Fish Camp Prong, one of Little River's larger tributaries. It's primarily a rainbow trout stream with a few brown trout. There is a robust population of brook trout if you go far enough.
We had gotten into a good number of fish by lunch. Shortly after eating we decided to put a little more trail behind us before getting back into the fishing. After walking about a half mile this is what I saw in the trail.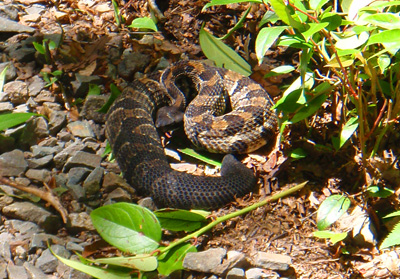 I stopped so fast I think I left skid marks. I threw up my arms and yelled, "Turn around! Don't look! Don't look!" Ethan, bringing up the rear knew exactly what that meant and responded quickly. Jared, like myself, isn't particularly fond of snakes but is curious enough to want a good look.
This photo is exactly the way we found the rattler and we left him just the same. Just like every other one I've seen in the Smokies it was somewhat docile, not moving, even after a few light taps with the tip of a fly rod. In fact, this individual was content to sun itself in the trail. We decided to back trak a little bit and fish around the snake rather than try to sneak by on the narrow trail. Again, the fishing was excellent. The guys caught mostly rainbows with a couple of browns thrown in as well.
Charity and I did a float on the Holston a few days back and it has fallen off dramatically. While water temperatures are far fom lethal in the high 60's, the fish aren't moving around very much. We only got a few fish to the net all day. The best success came on small nymphs fished extremely deep in relatively quiet water. Right now we're discouraging trout floats since generation schedules on the Clinch aren't favorable. Smallmouth fishing on the Holston is excellent right now. If a float is what you want in our neck of the woods we certainly recommend smallies. Popper fishing is great right now.
Brook Trout Monitoring in the Smokies
Charity and I helped park biologists with brook trout monitoring on Bunches Creek on the North Carolina side of the Smokies. We always enjoy doing this since you get to see exactly how many fish are in a stream and see how the different sizes of fish stack up to each other.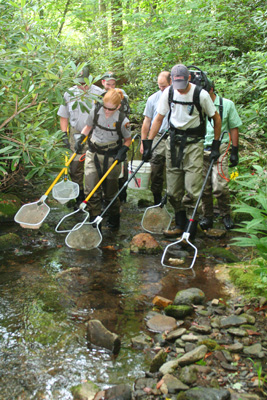 The North Carolina side of the Smokies seems to have less water this year than the Tennessee side, and the the biologists were concerned by the low water levels. However, the population doesn't seem to be affected much. We sampled 100 meters of stream and I think we shocked up well over 200 brook trout.
On the way home we saw this bull elk along Newfound Gap Road near the Oconaluftee River.