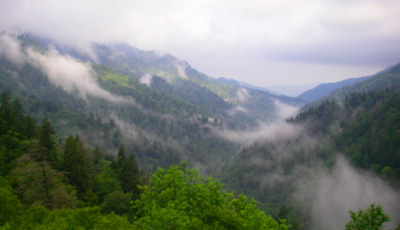 Rain is forecast for the next few days over the Smokies
Things have gotten a tad crispy and the most of the streams were beginning to look pretty dry, but today we've gotten our wish. The remnants of tropical storm Fay are forecast to bring rain to East Tennessee and Western North Carolina for the next three days. So far we've had nice steady rain which is good. That soaks in quickly and helps to replenish the water table. We'll likely get periods of downpours. That's better than nothing, but the runoff does little for long water in streams.
Little River around Elkmont has been low, but far better than last year. Middle Prong at Tremont has been low as well, but not as good as Elkmont. West Prong of Little River is extremely low. The West Prong of the Little Pigeon River has been low, but the plunge pools and numerous water falls on the stream have kept this one very fishable. The same thing goes for the Greenbrier section of the park. The Oconaluftee on the North Carolina side of the park is low but fishable. There seems to be more water coming out of Bradley Fork than the upper Oconaluftee. Straight Fork has good flows right now and I've been told by reliable sources that Deep Creek is OK as well. The rain we're scheduled to receive will only make things better.
Expect good flows for fishing on the Clinch below Norris Dam this weekend. The same goes for the Watauga and South Holston.
Charity was working at a Casting For Recovery retreat near Canton, North Carolina last weekend. I only made a few casts in a few spots, but I spent quite a bit of time out walking in the Smokies. Cherries are ripe in the park and and acorns are starting to plump on the oaks. This is one of the best times to get out watch for black bears.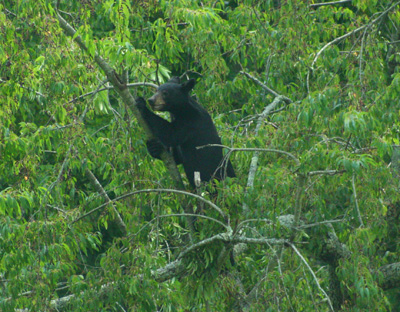 A 200 lb black bear up a cherry tree in Cades Cove
I managed to spot five separate bears in Cades Cove. All were singles, although one was pretty small and I feel sure a mother bear must have been close by. Two of the bears I spotted were in cherry trees, two were walking through the forest, and one was clawing ants or termites out of a log.
I couldn't help but pull into the parking lot at Abrams Creek and walk up the spring creek section. This is a unique stretch of water in the Smoky Mountains since it doesn't have any boulders and the water is pretty flat. The water was 60 degrees, superb for a relatively low elevation in August during a drought.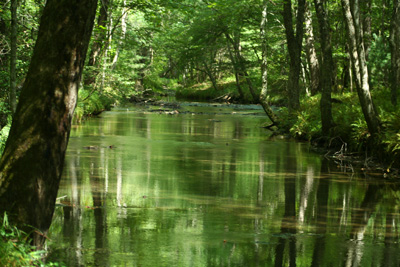 A beautiful if not difficult piece of water to fish
This stretch of water is always packed with rainbow trout, several of which blow away the 6″-8″ average length for Smoky Mountain streams. Park biologists have shocked up a few in the past that have gone 15″-18″, a virtually unheard of size for wild, Smoky Mountain rainbow trout. I spotted several nice rainbows that were certainly larger than 12″, but how much I'd hate to hazard a guess.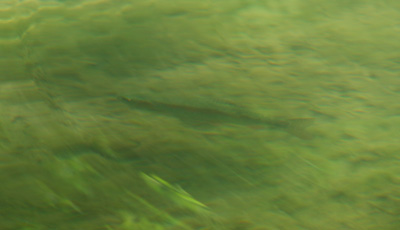 I photographed this guy as he cruised upstream
If the rain does come down hard I'll probably be stripping streamers on Little River. I'm sure the brown trout will be happy to get out in the higher, stained water and I'll be happy to do some streamer fishing since it's not been an option in the low water we've seen this summer.