Conditions are dry but relatively cool across the Smoky Mountain region of East Tennessee and Western North Carolina. Fly fishing will be best on the Tennessee side of the Smokies and on the tailwaters. Cataloochee is at or near record low flows right now. The Oconaluftee is a little better, but still quite low. Little River actually has a decent flow for fishing. Overnight temperatures in the park have been in the 40's to low 50's and most daytime temperatures have been in the 70's; perfect weather for getting out and doing some fishing and hiking.
The good news relating to the dry weather conditions is that the tailwaters have good flows for fishing. TVA is usually dumping water from the reservoirs, but since there isn't much to dump anglers can count on fishable flows. The best bet is to fish low on the Clinch near Clinton. Generation comes on mid-morning so you'll have most of the afternoon before water rises downstream. The Clinch also has superb flows for floating right now. The South Holston and Watauga also have great conditions for fishing as well.
Update from Yellowstone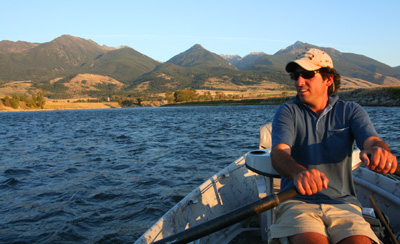 Ian rowing the Yellowstone River in Paradise Valley Montana
We're at the Slide Inn on the Madison River right now, but spent several days in Yellowstone Park and on the Yellowstone River in Paradise Valley, Montana. The elk are bugling in the park and bulls are rounding up their harems. September is our favorite time in Yellowstone.
We hit an important milestone in the Rutter family. Our three year old daughter Willow caught her first trout on Lava Creek in Yellowstone Park. She's been pretty revved up to try some fishing so we let her cast a rod with some assistance.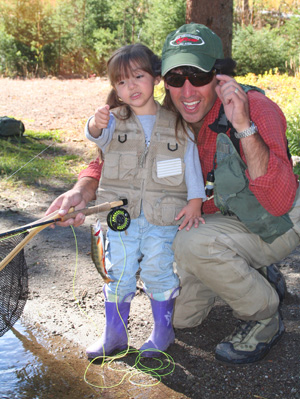 Willow caught a 9″ brookie on a Stimulator with a little help from Dad
The park fished good, but the Yellowstone River was excellent. Trout were rising all day long. We fished #18 tan caddis patterns and Blue Wing Olive patterns in the evening. We hardly even tried nymphing. Willow even caught a few decent rainbows from the drift boat and hooked up a really nice cutthroat that came off before we could net it.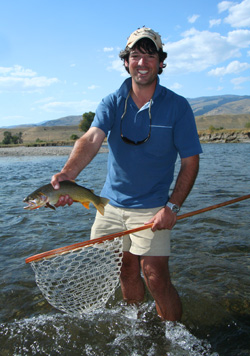 Ian with a nice Yellowstone River cutthroat
The weather was great! About 80 in the afternoon with mornings in the 30's. We dressed in shorts with sweatshirts and were in T-shirts by lunch time. We'd put the heavier layer on again about the time we'd be pulling up to the take-out boat ramp.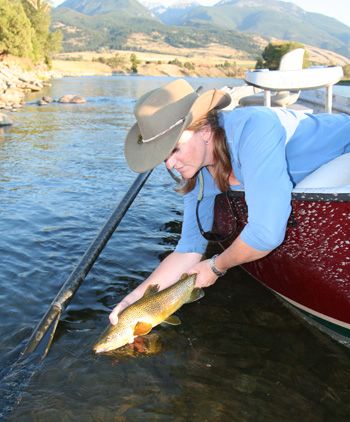 Charity caught this 19″ brown trout on a #18 Hi-Vis Blue Wing Olive Parachute
We've fished the Madison several days and done extremely well in spite of high water. We'll post a report about that in a few days.