We've been on the water almost every day which is why we haven't posted a report in a while. East Tennessee and the Smoky Mountains have reached peak fall color and the fly fishing has been great for the most part. There was a lull in the fishing earlier this week after the first snowfall of the year. The crest of the Smokies and parts of the North Carolina side of the park got several inches of snow. Highs only made it into the 40's early in the week and Little River fished very slow. However, we're back into the 60's and 70's and the fishing has heated up as well.
Dry fly fishing has been nothing short of excellent over the past few days. Midges, Blue Wing Olives, and a variety of small caddis have kept the trout looking to the surface. The best fishing has been in the middle of the day, but we're still getting fish up in the morning and late afternoon.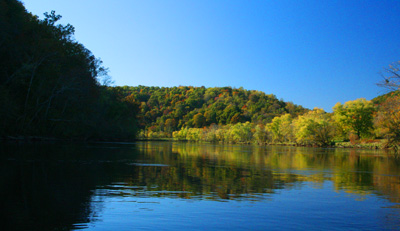 Late afternoon on the Clinch
While Tim and Charity have spent most of their time in the Smokies I spent most of the week floating the Clinch River. The Clinch has been surprisingly consistent. Most of the trout we're catching have been less than a foot long, but we're still getting a few to the net in the range of 14 – 18″.
There has been a pretty even distribution of rainbows, browns, and brook trout. Most of the sizeable trout have been rainbows, but Ben Shawler landed a 18″ brown this week. I'd like to take this opportunity to openly taunt Tom Chandler of Trout Underground. Tom is a brook trout fanatic and often wonders if I'm taunting him when I post photos of brookies. Most of the brook trout have been in the 10″ range, but a few are a little better. They aren't the biggest fish in the river, but they're cooperative and it's fun to catch them on a big river from a drift boat.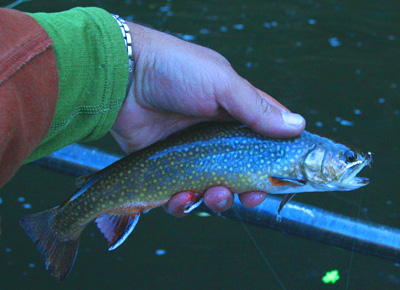 A standard issue brook trout from the Clinch
We've also seen a little bit of dry fly fishing on the Clinch. Most of the fish are coming on midge pupa or small beadhead nymphs fished under a strike indicator. Some small black caddis are hatching late in the afternoon and we've been able to pick up some fish on #18 emerger patterns.
The weather forecast looks good for the next few weeks and the fishing usually holds up through the end of the month. After that it's anyone's guess when the cold weather will set in, so get out on the water while the getting is good.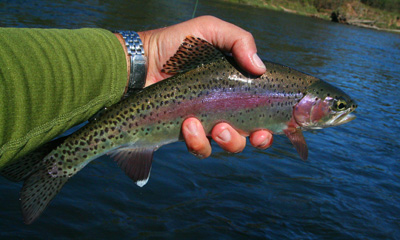 A chunky rainbow from the Clinch