It's been an eventful week of fly fishing and guiding here in the Smokies and on the Clinch River in east Tennessee. Fall provides the best chances to put a fly on big brown trout and this was the week.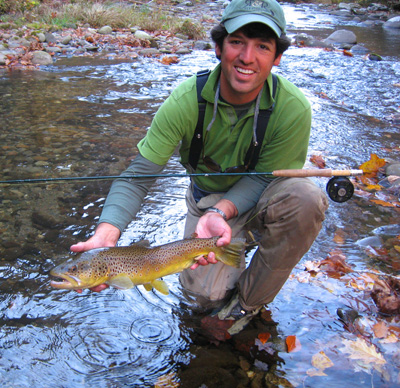 I caught this fish on Little River this week
The weather, fall colors, and fly fishing were absolutely spectacular this week. Charity and I each guided Lewis Raker from Michigan this week. He fishes all over the country but was impressed by the fly fishing here in east Tennessee. He caught a number of nice trout on Little River with Charity. The next day I floated him on the Clinch River and he caught plenty really nice fish. In fact, he caught fish on dry flies which is extremely rare. We're seeing some tiny black caddis on the Clinch and they're bringing fish up to the surface. Pam and Buddy Leach also caught some nice trout on caddis dry flies on the Clinch last week.
I guided Lew Raker on Little River on his third day of fishing here and it was a good one. Fish were rising to dries all day. At one point we saw a large brown trout of at least 18″ rise but didn't get a fly on it. Later in the afternoon I spotted a huge fish in shallow riffle water. I re-rigged Lew's rod but he insisted I cast to the trout. I refused but Lew said that my excitement over the big fish that morning made him realize that we don't see many in the Smokies. True, but he still should cast to the fish. Again he refused and said he'd like see how I'd handle the situation.
I cast a lightly weighted Woolly Bugger to the fish and it ate immediately. It was as long as my arm, fingertips to my shoulder, approximately 24″. Lew was as happy as I was, and believe me, that's pretty happy!
The very next day I took Andy Cross of South Carolina on a walk-in trip up Little River upstream of Elkmont. Andy had a great day hooking rainbow and brown trout on dry flies. After lunch I spotted a nice brown in shallow water and tied on another Bugger based on the experience from the previous day. I gave Andy a quick pep talk about where to cast the fly and what to expect if the fish ate. He made one cast that was a bit too far right and the fly hung up in shallow water. I advised him to tighten up slowly to free the fly and hopefully not spook the fish. Some tension on the line freed the fly and it was pulled into the current. The brown streaked across the riffle and inhaled the fly. Andy got a good hook set and the fish went ballistic!
There was about 60 seconds of absolute chaos but Andy hung on and I was able to tail the fish and land it for him. It had a nice hook jaw and measured from my fingertips to the bend of my elbow, right at 18″. It was a beautiful fish, bright orange with radiant red spots. I had a telephoto lens in my bag but no camera. Andy left his camera in the car. Oh well… Neither of us will forget it.
For the past two days we guided Alex Skallon Sr. and Jr. on Little River. I put them over a massive brown late in the day. Alex Jr. cast to the fish for about 15 minutes, but didn't get a take. Charity put them over three good fish today and young Alex had one give his fly a close inspection but didn't eat. Whew! Talk about sweating bullets.
We've got a few free days to fish this week and plan to try to get on some of the fish. The weather is forecast to be cool and rainy this week; perfect brown trout weather. We'll keep you posted if we hook up!