For the first time that I can remember in LONG time we have wet weather everyday in the extended forecast. We got lots of rain last week and the streams in the Smoky Mountains are looking very good. I've got a feeling that a lot of people might confuse average stream flows with high water flows since they've seen low flows for so long.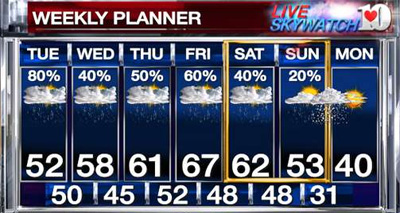 This weeks weather forecast brings good news
I would expect some high water this week, but you should be able to find some fishable water. The guage on Little River just inside the park is a valuable tool to see how high the water is. Things are right on target at 2.5. That's an average flow for this time of year.  If the level is up around 3.5 things are a bit on the high side, but there are still a few place to try. Hit the West Prong of Little River as it's a smaller stream and more manageable at that level.
Most anglers would consider Little River blown out at 3.5 but we enjoy stripping streamers in big eddies. The key is not to wade much if any. It can be dangerous to wade, but if you're in water that's knee deep and it's not dangerous; well you just stomped the fish out of there. The fish will move into quieter water along the edges so it's imperative to walk the banks.
Little River is our favorite place to do this, but most of the larger streams in the park are good for this. Deep Creek is particularly good and this water level is great to hook a larger brown trout over there.
We hope to break away from production of our two new books (this one & this one) long enough to get some streamer fishing done this week. We'll check back when we do.