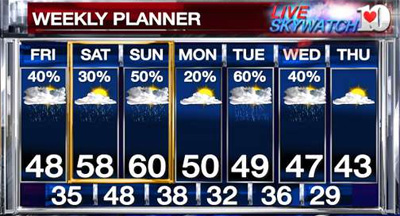 The latest weather forecast looks like a good one for fishing considering it's January. Be sure to have a rain jacket, but mild, moist days can be pretty good ones on the stream.
At this time of year we like to point to the tailwaters for consistent fishing, but TVA seems to have inconsistent schedules on most of the rivers, at least the ones close to us like the Clinch. However, the South Holston and Watauga both have superb generation schedules for wading. Days like the ones in the weather forecast can usually bring on BWO hatches on the South Holston, but be prepared with midges as well.
The Tuckaseegee has wadeable schedules most mornings and is floatable in the afternoons. This is an excellent river for nymphs and streamers in the winter.
Fishing in the Smokies will be the toughest option, but far from impossible. Show up on the stream around 11:00 and fish until about 4:00. We've done best lately with a pair of heavy nymphs. We'll even put a small split shot on the leader in the deeper runs of water. Our favorite flies have been a #10-12 Prince Nymph, #12 Pat's Nymph, and #12-14 Beadhead Pheasant Tail Nymph. All of our time in the park has been on Little River between Metcalf Bottoms and Elkmont but we're absolutely sure that Abrams Creek will be fishing quite well. It's one our winter haunts.