After about three weeks traveling to fly fishing shows and clubs we are finally back in the Smoky Mountains of East Tennessee for a while. The warm weather has been an added bonus and we've taken advantage by getting out and doing some fishing.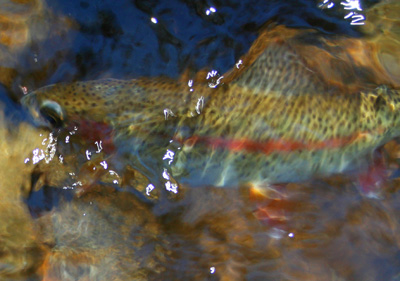 Rainbow trout released back in Little River
We spoke in Asheville a few nights back at the Land O Sky Chapter of Trout Unlimited and had a great turnout. Thanks to all who endured cramped conditions to hear us talk about our favorite waters and fly fishing methods here in East Tennessee. Jeff Curtis, chapter president, joked that he'd like for us to speak at every meeting if the turnout would be that good.
Charity and I stayed with our good friend Charlie Downs, bamboo rod maker, fly fisher, and all round good guy. The next morning we followed Charlie to the Davidson River to meet Starr Nolan, Casting for Recovery volunteer and guide at Brookside Guides in Asheville.  The Davidson was dramatically different from the streams we fish in Great Smoky Mountains National Park. The fish get large from feed pellets that wash out of the hatchery there. Intense fishing pressure has caused the fish to become quite acclimated to an angler's presence; so much that they don't seem to spook.

We caught fish on small midge pupa and I was broken off twice when I drifted a #8 Rubber Leg Tellico Nymph through deep slots. The water levels on the Davidson are noticeably lower than they are here in East Tennessee. While we're recovering from drought, southwest North Carolina is still feeling the effects.
Little River fished quite well yesterday. The fish ate nymphs in almost every good looking spot. A #14 Pheasant Tail Nymph was my best fly, but my buddy Doug Sanders caught most of his on a George Nymph. A split small split shot crimped on the leader seemed to make the flies more effective. Water levels are very good and it looks like we'll be getting some more precipitation over the next few weeks.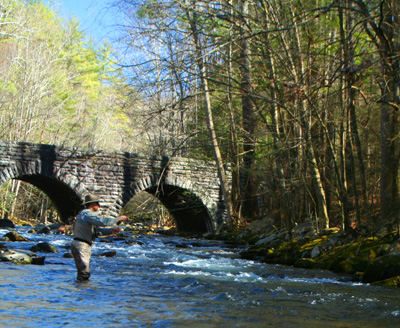 Doug Sanders on Little River
Tailwater flows haven't been favorable for fishing locally on the Clinch or Holston, but it looks like that might be changing next week. We're ready to get the boat back in the water!