Fall fishing is off to a great start! Dry fly fishing in the Smoky Mountains has been nothing short of superb. Tailwater opportunities aren't as abundant as they were a few months ago, but there are still some good chances to get out on the big rivers in East Tennessee and Western North Carolina.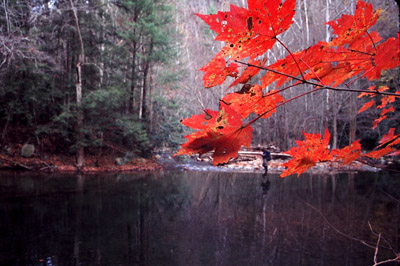 Stream levels in the Smokies have been high for autumn, but are still quite fishable. We're seeing water levels that are more typical of spring than fall. There was some really high water about two weeks ago, but it only lasted about a day and a half before levels receded to a fishable level.
Trout are rising and dry fly fishing is excellent. We've spent more time on Little River than anywhere else. We've fished #16-18 Parachute Adams and Blue Wing Olives above all else. Step the size up to a #14 in choppier pocket water.
Keep you eyes open for good water levels on the Clinch River. Above average rainfall has TVA generating quite a bit of water at Norris Dam, but we've still been able to sneak in a few good days of fishing. The typical small nymphs and midge patterns work best, but keep your eyes open for small black caddis. This hatch can bring fish to the surface during low water conditions on the Clinch in October and November.
The Delayed Harvest season has begun on many streams in Tennessee and North Carolina. There are a few of these streams in Tennessee, but North Carolina has many more to choose from. We'll start floating the Tuckaseegee River near Dillsboro. While this river is often wadeable it will probably fish best from a boat this fall since water levels are relatively high. The Tuck is one of our favorite fall destinations. There isn't much in the way of dry fly fishing when the water is up, but nymph and streamer fishing is excellent. It's not unusual for us to pick up several fish over 16″ in a day. Rainbows, browns, and brookies are all common here.
Smallmouth fishing has been good for the last week, but the days are numbered with the onset of cooler weather. We had a couple of days of decent popper fishing on the Holston River last week, but it won't last much longer.