I recently spent six days fly fishing in Yellowstone National Park. Craig Langer who runs the FlyBook from Portland, Oregon joined me. It was a great week of camping, fishing, and hiking in our first national park.
We started our trip by hiking into a relatively unfished section of the Yellowstone River. Cutthroat trout were the primary species and fish in the 14″ range were abundant with a few larger than that.
We spent our second day exploring a canyon stretch of the Lamar River. We caught a few rainbow trout in there, but Cutthroats were the primary fish we found. Most were in the same size range as what we found in the Yellowstone.
We moved camp to Lewis Lake and explored remote sections of the Lewis River. The Lewis is among the most difficult rivers to fish because there are few trails or access points along most of the river.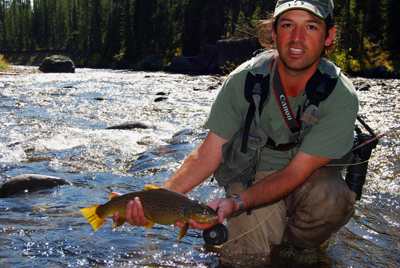 Brown trout are the main species in the Lewis River system. There are a few cutthroats and whitefish near the confluence with the Snake River and lake trout in Lewis and Shoshone Lakes, but it was the browns we came for.
The Lewis River meadows run right along the road to the park's South Entrance. This is flat water with exceptionally wary trout, but the fall colors made for spectacular scenery.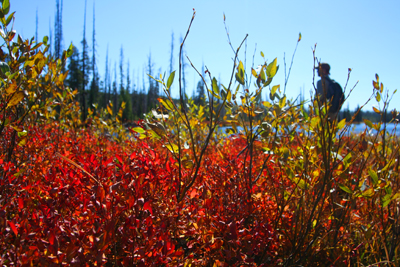 From the Lewis River we moved over to the west side of the park and camped along the Madison River. I've spent so much time here it almost seems like home to me. Craig and I fished the Madison in the mornings and evenings and the Gibbon River in the afternoon.