Earlier this season I ordered two pairs of wading boots from Patagonia. One was felt and the other was sticky rubber. I'll typically go through about two and sometimes even three pairs of wading boots in a season so I figured I could have my own little test without much extra cost.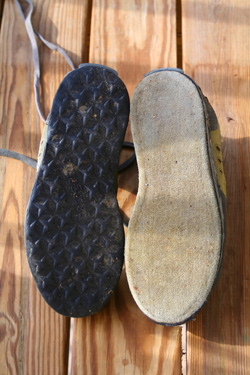 Charity and I had bad experiences with sticky rubber in the past (mostly with customers using it) and have long been skeptics. Since most of the major manufacturers are now making sticky rubber soles with some even threatening to discontinue felt I thought I should see if they were any better.
I'll admit that I was surprised when I first wore the boots in the Smokies. The boots did grip better than I thought they might, especially out of the water and on dry rock. The downside was worse than the upside, though. Virtually any smooth rock in the river was slick. So slick that I'm not sure the boots were much better than a pair of Converse sneakers.
Over on the Holston and the Clinch the boots did much better. Water currents are slower and there are fewer areas of with a complete bedrock bottom. I really didn't have much problem wading in them on the tailwaters.
I've heard some positive comments about sticky rubber soles with studs, but I'm not even going to try that. Studs on the smooth rocks in the Smokies is a real recipe for disaster. I found that the cleats kept the felt from even gaining much contact. The combination of cleats and smooth rock was close to roller skates, so I don't think sticky rubber would help.
Another thing that just bothers me about cleats is that I see claw marks on the boulders in the rivers and streams. This seems to prove they slip in critical situations, but I hate to see the "wader graffiti" on the rocks.
We were initially on board for the reasons given that sticky rubber soles would impede the spread of nasty things like Didymo, whirling disease, and New Zealand Mud Snails. But now I doubt that. There's more than just felt that picks up stuff in the river.  Shoe laces, insoles, and gravel guards all pick stuff up and should be cleansed after fishing "contaminated" rivers.
I saw this article a few days ago on Midcurrent. I sure hope felt doesn't go away.
Any experience with sticky rubber you'd like to share? We'd like to hear what you think.