It's been a tough week or so as far as the weather is concerned here in the Smoky Mountains. Temperatures have been peaking in the low to mid 20's and there doesn't seem to be any end in sight. It's so bad that we're longing for those days right after Christmas when it warmed up to the high 30's.
I'm catching up on the fly tying, but that can only go on so long before you just end up looking out the window and don't get much done. Fortunately we live in a place where we can be on the stream in just a few minutes, fish for an hour or two, then go home to warm up.
Charity's birthday falls squarely between Christmas and New Year's and she was determined to catch a trout. Water temperatures were in the high 30's to maybe 40 depending on the spot where you checked and the air temperature was such that ice formed in the guides in shady spots.
Things looked pretty grim, but Charity landed two and missed several more fish in only 45 minutes or so before proclaiming she had caught her birthday fish and wanted to continue the festivities in a warmer locale.
Turns out Charity grabbed the four weight Scott G2 that was rigged up in the garage, so the mangled Pat's Nymph I mentioned in a previous entry continued to produce. If anyone out there is beginning to get a little distressed, the fly has been retired and we've even put a new leader on.
We usually spend a good deal of time fishing the tailwaters this time of year, but the Clinch, Holston, South Holston, and Hiwassee are all still running very high. Hopefully that situation will change in the next couple of weeks.
As water temperatures have plummeted in the Smokies we've moved our fishing over to Abrams Creek in Cades Cove. The substantial spring creek influence keeps water temperatures well into the 40's for a decent stretch of the stream. Fish here are much more active than in the neighboring Little River watershed.
We're working on a winter fishing video article for the January newsletter so I don't have any photos of the fishing, but trust me, it's cold. We spend almost as much time clearing ice from the rod as we do fishing.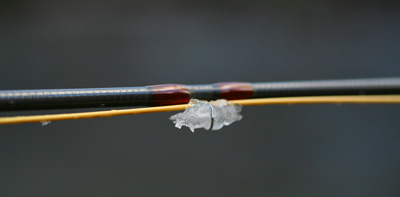 I'm happy to say we have yet to get skunked, but the fishing has been pretty slow even on Abrams Creek. We're catching about 4-7 fish per outing and generally calling it a day after about 3 hours on the stream. Even so, the surroundings are hard to beat.