Charity has coordinated with  Starr Nolan of Brookside Guides in Ashevile for this fun weekend.
Join them for a great 3 day weekend at Lake Logan Center.   As usual, the class will be at the beautiful and historic Sit N'Whittle Lodge and the surrounding cabins so there will be plenty of space for the wine and cheese reception, fly tying, knot tying and video presentations.
The Lodge also offers plenty of cozy chairs for relaxing in front of the massive stone fireplace or lounging on the huge deck enjoying the mountains and the lake. The West Fork of the Pigeon River is very close and provides excellent fishing.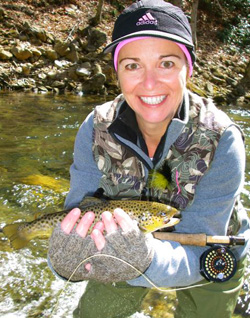 This school has something to offer for all skill levels.
The beginner track will focus on basic fly fishing skills:
·      Casting
·      Simple knots
·      Locating fish in the water
·      Hooking and landing fish
·      How to select a the right fly
The intermediate/advanced track will offer:
·      Advanced casting (including the double haul, reach cast and curve cast)
·      Video taped analysis of your cast
·      Advanced angling skills:   How to achieve the perfect drift
·      Construction of droppers using attractor patterns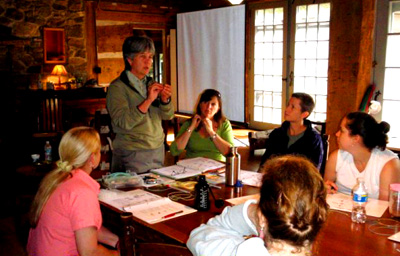 Both tracks will include fly tying, identifying stream insects and "matching the hatch". There will also be a special class on salt water fly fishing.
$900.00 double occupancy includes wine and cheese receptions, school materials, 3 days/2 nights lodging, food and a full day of guided fly fishing (fishing licenses and gratuities not included).
(BRING YOUR OWN WADERS, BOOTS, ROD AND REEL AND RECEIVE A $25 DISCOUNT).
Give us a call or email to book your spot. Space is limited and all deposits must be received by March 25, 2010.