By now everyone knows that we've been in the grip of winter for quite a while now. This has been the coldest and snowiest winter in recent memory. We've had only a few days without any snow here in Townsend. We're low enough that the snow hasn't been too much of an inconvenience, but there has been as much as 38″ of snow in the highest elevations of the Smokies with impressive snow drifts.
Today the weather was sunny and the temperature rose well into the 40's. Here in Townsend we've grown so accustomed to cold weather that walking around in the sunshine without a jacket felt comfortable. We had work to do but couldn't stand it so we headed for the stream after lunch.
I fully expected the water to be ice cold, and I was proven correct. It's a cruel fact that warm weather will melt snow. That creates water temperatures far colder than most people expect as the weather gets warmer. Fortunately, the fish were eating in spite of a 39 degree water temperature I took at Tremont.
Charity and I took turns fishing and both landed several nice rainbow trout. Charity volunteered to carry our son in the chest pack and was content to fish from the bank. I covered more water but didn't land any more fish.
We fished a double nymph rig with a #12 Pat's Nymph on top and a #10 Prince Nymph on bottom. We each caught a trout on the Prince, but both of us caught most of our fish on the Pat's Nymph.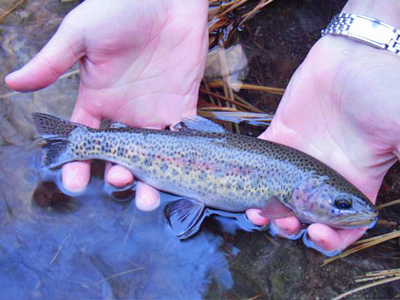 TVA is cutting back generation on the Holston, South Holston, Watauga tailwaters. I expect the Clinch to cut back in another week or so. Weekend weather is forecast to make it to 60 degrees so I'm sure we'll make it back to the river. In fact, we're planning a tailwater trip in a couple of days.