It was another cold weekend here in the Smoky Mountains, but we got out and did some fly fishing anyway. The fishing wasn't red hot. Far from it to be honest, but we have spring fever and honestly, I can't help but think that the fish and the bugs do too.
The fish stayed on the bottom and even though they didn't eat much of what we fished, they sure seemed to be moving around whenever we got a good vantage point where we could see into the river. No stray mayflies out and about, but there were some caddis.
Charity and I did spot one hefty brown trout finning in the current in one deep run. I was positive I hooked it, but it seems his body guard flung himself into my fly. It was a nice brown anyway, just not the exceptional one I was hoping for. Subscribers to our Fly of the Month will recognize the Rubber Leg Tellico Nymph.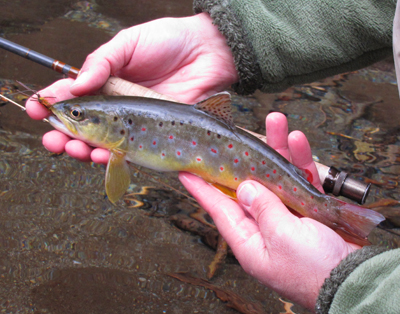 Does this weather have you bouncing off the walls?
If you're in the greater Knoxville area next Saturday we've got something just for you!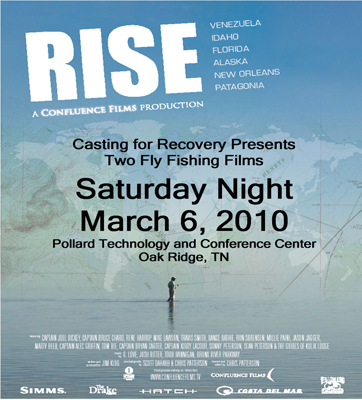 Tennessee Casting for Recovery will be screening two great fly fishing films, Drift and Rise. The doors open at 5:30, Drift begins at 6:30 and Rise starts at 8:00. Tickets are $15 at the door and light hors d'oeuvres will be served.
Charity and I will be there and we expect to see many of our friends there as well. Trust me, if you've been dreaming about fly fishing this winter these movies will put you in a cold sweat! Here's a preview of Rise.
[youtube]http://www.youtube.com/watch?v=5krxD2N-Eeg[/youtube]
You can buy your tickets in advance here.