Charity and I managed to sneak away a few days ago and drag the drift boat over to the Tuckaseegee River and strip some streamers. We were fortunate to find a window when Newfound Gap was open.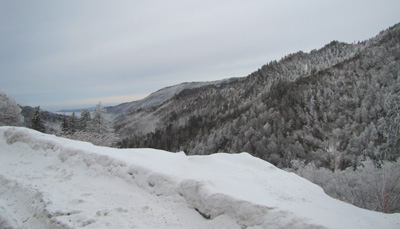 There was probably close to two feet of snow on the ground around Newfound Gap and there were much deeper drifts of snow in a few bends of the road. And that was before the snow we received a day later.
Water temperature on the Tuckaseegee was pretty cold and the fish were moving slow. If we had been guiding that day we would have probably drifted nymphs through many of the runs, but we've been doing nothing but fishing nymphs for a few months and were up for a change.
We fished streamers all day long. All of the fish we caught came out of slow, deep water and were more responsive to slower retrieves. You'll notice in the video the fish came from the deep, green slot in the middle of the river. Charity kept the retrieve slow but gave the streamer distinct motion. It was a chartreuse and white #6 Clouser Minnow.
[youtube]http://www.youtube.com/watch?v=AT4sX4V7548[/youtube]