It's been in the 60's and we've been fishing without a jacket. In fact, we've had our sleeves rolled up. There are bugs on the stream, but the fish haven't quite gotten on them just yet. Every nice run or pool has yielded a rise, but as of yesterday (March 9) we still haven't seen consistent dry fly fishing.
We've heard excellent reports from the Clinch River. Generation schedules are great and the fish are eating. Bring your best midge patterns.
Don't our buddy Andy Sonner that the good dry fly fishing hasn't arrived in the Smokies. Andy caught this brown in the national park on Monday… wait for it… on a dry fly!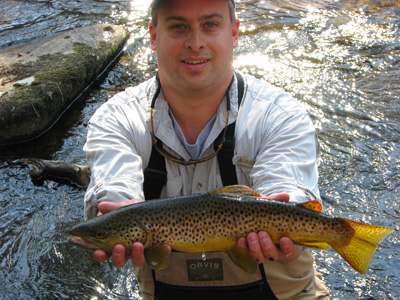 We really can't stand admire Andy's knack for pulling this off every couple of years. A wild fish like this in the Smokies is a big deal and catching it on a dry fly is somewhat akin to finding the Holy Grail. This isn't the first time he's done it either. He landed one bigger than this on a dry fly about three or four years ago.
Andy is one of those disgusting guys with that "fish sense" that must be integrated into his DNA. A few years ago he joined us on our Hazel Creek camp and rubbed our noses in it thrilled us when he caught this behemoth. At least he caught this one on a nymph!