Spring officially arrived this weekend and it sure felt like it under warm, sunny skies. Beautiful weather here in East Tennessee and the Smoky Mountains made for a great few days of fly fishing. The catching was anywhere from fair to excellent depending on your exact location, but the fishing was phenomenal after a long winter of cold weather.
Hatches are still developing everywhere, but we're seeing some great moments in the Smokies. Tom and Jake Moak went out on their first Smoky Mountain fly fishing trip last Friday. It was Jake's first time handling a fly rod and there was one point when he hooked and landed five trout from one small pool. There were a number missed strikes, but both Tom and Jake caught a good number of rainbows on dry fly.
Saturday was clear and sunny when I took Buddy and Pam Leach for a float trip. Midges hatched sporadically through the day and like my last tailwater float, things were a bit streaky. We'd get into a few fish and then have relatively slow period. This cycle continued all day long. Pam caught the fish of the day on a #16 Beadhead Zelon Nymph.
Buddy also caught one close to this size on the beadhead, but experimented with streamers for about 30 minutes. Typical of streamer fishing, he had several swipes on the fly and hooked one large trout. The big one was a rainbow that absolutely crushed the fly. He had it on for a few seconds but the fish managed to free itself after only a few seconds.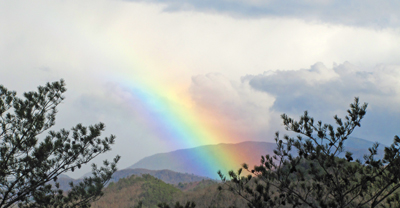 This week is off to a wet start with a bit of a cool down but remember, rain is not a bad thing! Fish like water. This kind of weather is typical of March and even April, but the weather and fishing will only get better from now on!