It's been a brutal summer but the weather has certainly grown milder over the last week. Overnight temperatures here in Townsend have been in the 60's which means that they're easily in the 50's in many parts of the Smokies.
That means streams are cooling to premium temperatures for trout and aquatic insects are growing more active as well. We received plenty of rain last week so most streams are at pretty good flows. There is some variation from one watershed to the next, but most are right where they should be.
We're still fishing pretty basic stuff in the Smokies. Terrestrials are working great on the bigger streams as well as the small ones. A good old Parachute Adams or Stimulator will pull them to the surface if you're in the backcountry. Watch for Tricos to hatch early in the day on bigger streams like Little River and you'll see spinner falls in the late morning.
Our local tailwater situation isn't great, but that's also about right for late August. We have too much water in the Clinch and Holston Rivers now as TVA has started to draw down Norris and Cherokee reservoirs. There are some short windows to get out on the water, but no opportunities for fishing more than a few hours.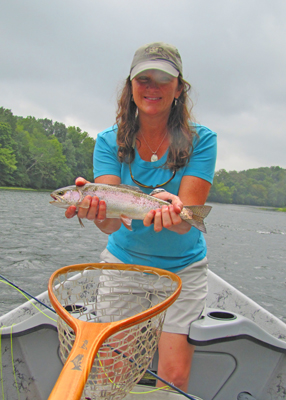 Charity nabbed this nice rainbow when we hit a short, fishable window last week
Right now the Clinch will have good schedules on weekends, but expect it to run high through the week. Expect this pattern to last into October. Flows may moderate if the weather remains dry and the reservoirs get low early, but it's often early November before we see river levels drop to a good level.
On the other hand, this is a great time to get out and fish for smallmouth bass. Fishing with poppers peaks in late summer and early fall. We've been doing better on streamers, but poppers will always pull something to the surface. Sometimes we get more redbreast sunfish, bluegills, and red eyes on poppers than smallies, but they're fun too.