A few days ago the week seemed to be ripe with possibility. The snow was melting fast and a warm rain was on the way. Even better there were a number of sunny days in the forecast with temperatures in the 40's and 50's. Looks good on paper but it didn't really work out that way.
The warm rain and melting snow brought streams up to well beyond fishable for a couple of days and marginally so for the last two. Today will be the first day that mountain streams will be a pretty good level, but do I need to say what's on the way, or can you see it coming…
We've got some more rain on the way today, probably snow in the mountains and a sure 'nuff snow is on the way this Friday. Whatcha' gonna do?
Fish when you can.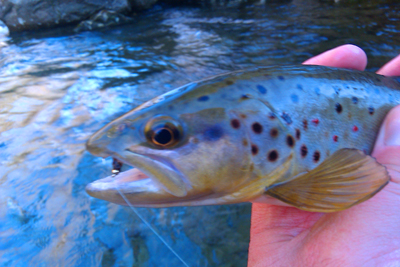 Fishing hasn't exactly been on fire, but we're picking up a few fish on nymphs fished deep in the slowest water we can find. Water temperatures have yet to rebound into the low 40's and it doesn't look like they will any time soon.
There have been some decent tailwater opportunities if you keep your eyes peeled. There was a superb schedule on the Clinch last weekend, but one day was during a driving rain and the second had muddy water on the lower 2/3 of the river from the rain.
The Watauga has been the best best for a place with a sure fire schedule, but the South Holston seems to be a better choice most of the time. You have to watch the schedule to be sure you show up when the water's right, but that's been pretty frequent and there have been enough bugs to keep the fish rising.