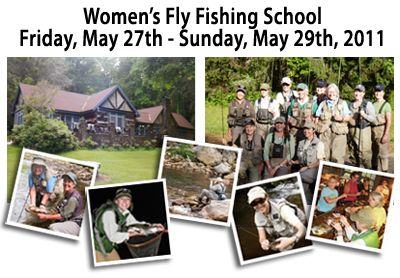 Charity has teamed up once again with Starr Nolan of Asheville's Brookside Guides to conduct another Women's Fly Fishing School.
The school will be at beautiful Lake Logan Retreat and the West Fork of the Pigeon River runs across the property.
This is a fun weekend for women to learn some fly fishing skills while making new friends. The weekend starts on Friday with a wine & cheese reception for all participants.
All meals and lodging at Lake Logan are included and the facility is on the West Fork of the Pigeon River. All equipment is provided and you'll even receive a complimentary selection of trout flies.
Instruction is provided on Saturday and all anglers will be guided on the West Fork of the Pigeon on Sunday.
This school is suitable for all skill levels as experienced anglers will be separated for more advanced instruction.
$825 covers everything
$250 Deposit Must Be Received By March 15
Give Charity a call at 865-448-0467 to book it or learn more