A warm wave of weather swept across the region this weekend with temperatures extending into the low 60's. Blue skies, bright sun, and rushing water are irresistible after weeks of cold and snow. We would have liked to have gotten on the Clinch or Holston tailwaters but schedules were just hinky enough that it took more planning than we could muster.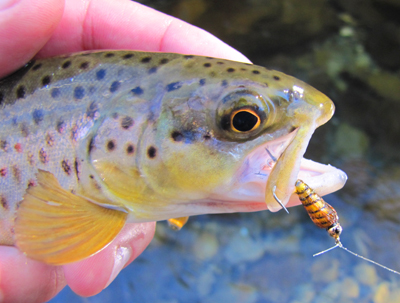 The Smokies are literally our backyard and we can be almost anywhere in the Little River watershed within 30 minutes. Saturday we hiked up the Middle Prong from the Smoky Mountain Institute. The upper end of the road is still closed since constant process of freeze and thaw with traffic tends to accelerate wear and tear. It makes for an easy hike and the walk tends to discourage many fishermen.
Today it was up the main fork of Little River towards Elkmont. As expected the weather was much better than the fishing. There is still substantial snow on the highest ridges of the Smokies and this warm weather is sending that cold, melted snow right into the rivers and streams.
There were a few bugs around, but nothing to exactly label a hatch of any sort. We're forecast to get to some rain in a few days and that will likely wash out most of the remaining snow. Even though temperatures will be lower after this system passes I predict that the fishing will be better once the snow is gone.