It's been a tough couple of weeks with cold water in the Smokies and high water on the tailwaters, but we managed to line a few stars up this weekend to make something happen. We've been having a pretty good time wading in the Smokies, but the drift boat has only had one brief appearance over the past few months and, well, we've kinda missed it.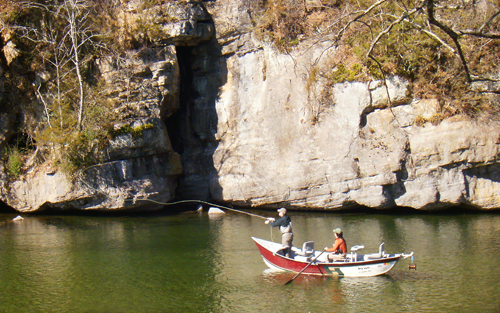 A drift boat is happier in the sunshine on the water than in a dark garage
Charity had some prior commitments and I had some work I could have gotten done, but by fishing buddy and neighbor up the road Doug Sanders called to see if I could get out for some fishing. After a tough outing a few days ago in the park we thought we'd try a short float on Little River through Townsend.
Typically we'll float the Little River further downstream around Walland and further down for panfish and smallmouth bass. Even down the river there are periods when the river can be too low to float. Up here in Townsend there's a narrow window where the river is high enough to float without being so high the fishing is tough. Winter and spring are the best times for this ideal flow, but in the spring fishing is much better in the park or on the Clinch or Holston River. Thus, winter is pretty much the time to put any effort into floating in Townsend.
It's not the best piece of trout water in the world. In fact, it's better for smallmouth bass, but a steady stream of tubers in the warm months keep it off limits then. On the other hand, higher flows and a few resident trout along with some stockers make for a decent winter float.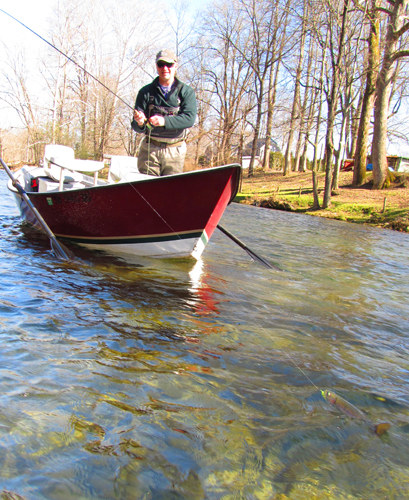 Doug brings in a nice fish
We stayed true with streamers all afternoon. The reason is simple. Dry fly fishing would have been futile without any bugs on the water and watching a strike indicator is boring by comparison. We landed about a dozen fish in about 3 1/2 hours and had a number of interested followers and missed strikes.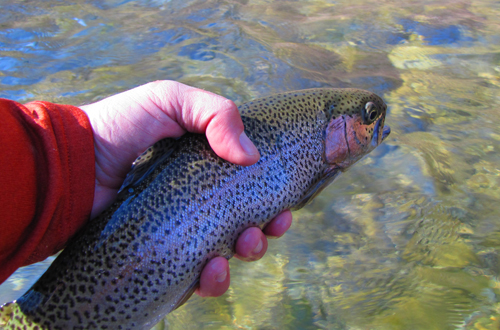 A typical rainbow trout from the Little River in Townsend
We're looking at a cooler week here in the Smokies with a chance of snow mid week, but next weekend is looking good. Maybe we'll see you on the water.