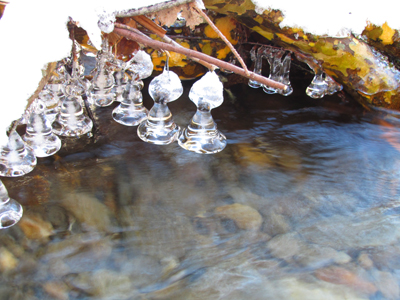 Take a good look… It will be a while before you see this again
There's still some snow in the shaded hollows and high peaks of the Smoky Mountains, but it's on the way out. Temperatures made it well into the 50's over thew weekend and should make it into the 60's later this week.
Water temperatures in the Smokies were still in the basement though thanks to melting snow. Fishing was pretty slow on Saturday, but Trevor Lohr had the time scheduled and didn't want to waste the good weather. We managed to pick up a brown trout on a dry fly in a spot that can reliably produce under even grim situations, but we spent the bulk of our time dredging the stream with nymphs.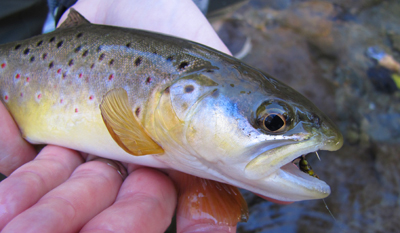 A good looking 10″ brown trout that took a Tellico Nymph
In spite of frigid water there were a number of insects moving around and we expect that to increase this week. The majority of insects on the stream were small caddis. That trend will certainly continue this week but you should also expect tiny winter stoneflies and perhaps a few early brown stoneflies. The most optimistic will start watching for Quill Gordons and Blue Quills, but that's probably a bit premature, but could start early this year if the warm weather persists.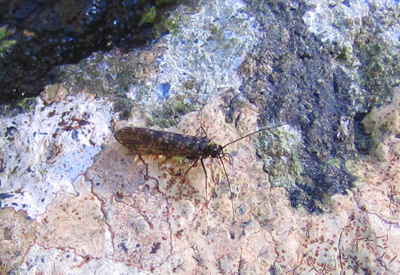 This caddis is about #18. Look for them throughout the Smokies this week.

The stars are really lining up for some good tailwater fishing this week. Generation schedules are very favorable for fishing. Expect midges on the Clinch. Perhaps some olives on the South Holston, Hiwassee, and Watauga but the weather isn't really favorable for them. Show up prepared with Zebra Midges, small Pheasant Tails, and some small buggers if that's your bag.