Today is the day we've been waiting for. Well… almost the day we've been waiting for. Charity and I returned from a short trip up the Little River this afternoon and we're happy to report that there are Quill Gordons hatching.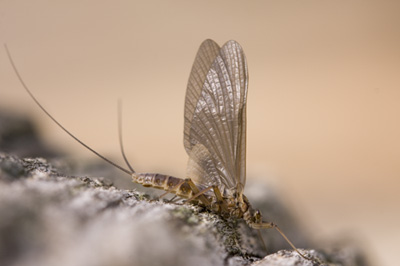 Quill Gordon photographed last year by Julie Tallman on a North Carolina stream
The river is still running a little bit high from the rain we had a few days back, but it's certainly fishable. The hatch was not what we'd call heavy by any means, but there were mayflies on the water.
Brown stoneflies were still the most prevalent insects on the river. Most were buzzing through the air after hatching on the rocks. Remember, trout take these insects when they're laying eggs, not so much when they're hatching.
Back to the mayflies… It was probably the first day that they hatched in any kind of numbers because there were only a few fish paying any attention. This will change quickly as the number of mayflies increases and the fish learn to expect them. It's on!

Tweet