The season is officially under way for us here at R&R Fly Fishing. We have anglers on the water every day this week. We've had some guide trips up to this point, but those had a pre-season kind of feel to them even though our anglers caught plenty of fish. We always did better than expected. Now spring is here, the bugs are hatching and we expect to do well.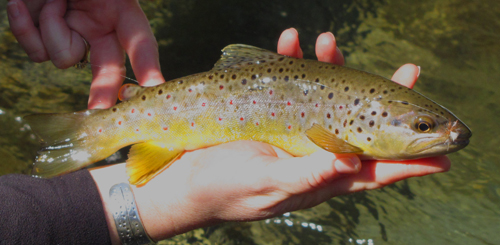 Right now the streams are still running higher than we'd like to see them, but mayfly hatches are keeping the situation negotiable. In fact, most of the fish we're catching are on dry flies. Still, it would be nice for the water to drop another few inches. The ground is still pretty mushy and flows have nearly leveled off. That means any additional rain will cause a spike in flows.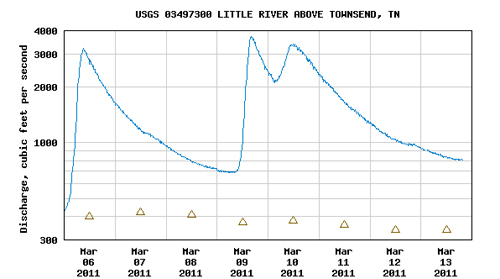 This flow chart is for Little River, but nearly every stream flow in the region has the same track. The triangles in the graph above show the average flow for the date and we're currently experience about 2 1/2 times the average volume of water. That 700 -800 cfs mark is right at the maximum where you can still get some effective fishing in, but you have to find appropriate spots.
Should be a great week as far as hatches are concerned. They seem to get better every day.
Still no good news on the tailwater scene. Those with boats can fish the the South Holston, but everything else is too high to bother. No chance of wading anywhere.