We had a very strong cold front pass through last night with strong storms. I managed to wrap up a decent yet windy day of guided fishing yesterday just before it all broke loose. Right on time, just as the dogwoods are blooming, we have a cold snap. Nothing serious but after a string of 78 degree days, 50 degrees is pretty chilly.
This morning Charity and I found bits of odd debris around the neighborhood like pieces of vinyl siding and books. The strange thing was that none of the siding matched any of the houses around. It was later that we heard about a tornado that touched down in Greenback some miles from here and destroyed a number of homes. The weather service says the funnel passed near Townsend and broke up over the Smokies. I can tell you that is the truth because I picked another piece of vinyl siding out of Little River this afternoon and saw some more in the tree tops. Scary stuff…
Now for the Good News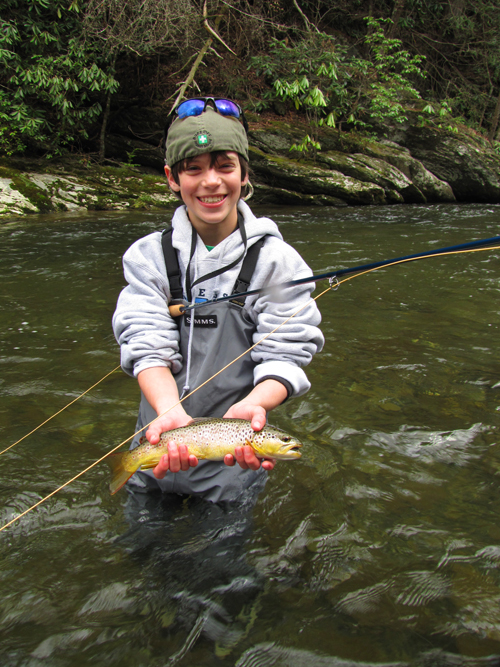 Brendan Smith caught his largest trout to date and it was a wild brown in the Smokies on a dry fly. It was a beautiful take and Brendan did a great job bringing it in. I think that smile will be on his face for a while.
On the tailwater front, we're still waiting for water levels to fall, but it looks like we might be in the home stretch. Maybe a few more days, a week tops and we should be there. Stay tuned…