It's been a tough couple of days. The wind howled on Monday. Strong storms came in Monday night and a few local rivers were muddied as a result. I tried to float the Clinch Tuesday, but the combination of muddy water, steady rain, and gusty wind caused us to hit the eject button.
The Smokies were cold and rainy today. The highest peaks even saw some snow and ice as the National Park service closed Clingmans Dome Road.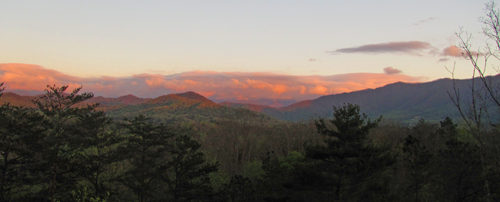 Fortunately this scene predicts good weather on the way. Those clouds over the Smokies were the last remnants of the front that passed through and we've got at least a couple of days of nice weather before the next front comes through.