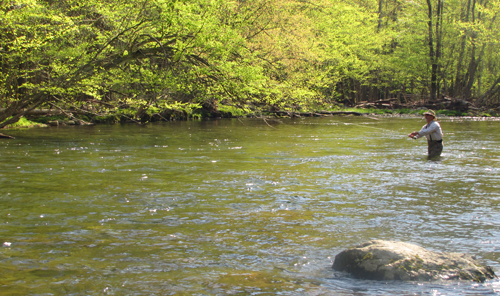 A beautiful day on the Little River in the Tennessee Smokies
I'm tempted to say it was a beautiful day to be out on the river and just let the photo do all the talking, but I'm sure you'd like a few more details.
There was a sampling of different bugs on the water, but nothing that covered any of the runs and had the fish jumping out of the water. We saw a few Hendricksons and stoneflies. There were also some small mayflies I couldn't identify as they flew past. Either olives or Blue Quills and the same fly patterns will work for both.
There were some Yellow Sallies hatching on the rocks, but it was brown stoneflies laying eggs on the water. Remember, trout tend to eat stoneflies more when they are laying eggs on the water and less when they are hatching on the boulders.
For those who appreciate smallmouth bass, one of my highly reliable sources tells me that the bite is really heating up on area reservoirs and rivers. Fish the slow water and stay out of the riffles until the water warms up some more. Our schedule is essentially locked in for guiding for the next few weeks so I doubt we'll get off of the trout for a little while, but some of you might be ready to expand your horizons.
Hitching the drift boat up for a few days on the tailwaters! We'll keep you posted.