We've already done a ton of guiding this spring, but this is the week when we shift gears into overdrive. We have guided trips in the Smokies, tailwater floats, and our annual Hazel Creek fish camp this weekend. That's followed by more of the same next week followed by the Townsend TroutFest next weekend.
If you haven't made it out on the water yet this season there really isn't any reason to wait any longer. Regardless of what you like to fish for or where you like to fish you should be able to find something going on.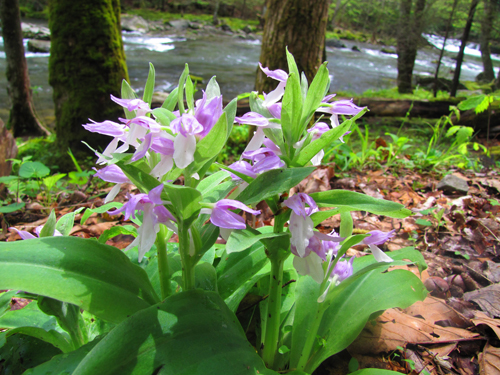 Wildflowers are in full bloom in the Smokies. This is a showy orchis along Little River
The Smokies are in great shape right now. Storms mid week may raise water levels, but expect them to recover quickly. Fish will rise or take a nymph. It's your choice. Can't make up your mind? Fish a dry and dropper combo.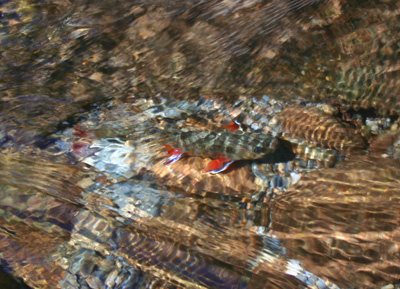 High country brook trout your thing? We've already fished streams over 3500′ in elevation and the bite is on. You might need to resort to nymphs early in the day, but expect the usual dry fly activity in the afternoon. We're primarily fishing Thunderheads and Parachute Adams in these streams.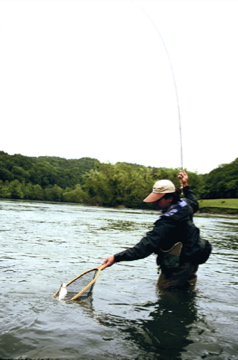 You don't care much for the mountain streams and prefer big tailwater rivers? You won't have as much latitude as the blue liners, but you still have somewhere to go. The South Holston and Watauga both have generation schedules to let waders get on the water. The Holston River is also coming around.
The Clinch? Let's not mention the Clinch just yet since water is still spilling over Norris Dam while the generators are pushing every drop of water possible. The same goes for the Hiwassee, but expect flows to moderate there later this week and local anglers who are familiar with the river will be able to find a few wadeable shoals.
Another great big river opportunity is the Tuckaseegee near Dillsboro, North Carolina. Flows have moderated there somewhat allowing waders a crack at the water. The past few weeks the Tuck has been the sole domain of those with boats. We had several good days with streamers floating it, but expect nymphs to come on strong with lower flows.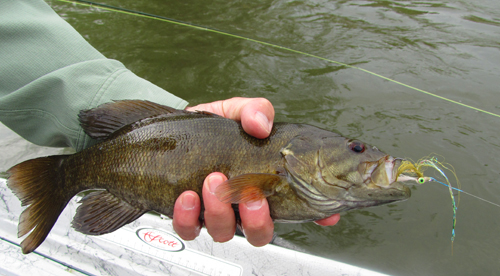 Need more variety than just trout…
Let's not forget the redheaded stepchild of the fly fishing world, the smallmouth bass. Area rivers are starting to come on strong! Locals are really missing the Little Pigeon around Sevierville this year, but there probably won't be long term effects from the sewage spill in Pigeon Forge. Water levels were high enough to blow everything out and dilute it. Warnings are still in effect, though.
Little River below Townsend, the Pigeon River, and Nolichucky River are all coming alive. It's too cool for poppers, but dredge calm waters with streamers for a hook up. Last week David Anderson picked up a huge fish on a float.