We've been exceptionally busy over the last week and done just about every type of trip we offer. Charity has been guiding anglers in the Smokies while I've done some of that as well as floats for trout and floats for smallmouth bass.
Almost all of the trips I've done in the Smokies have been in the backcountry. Stream conditions have been perfect! We've been catching plenty of fish on dry flies, but cool mornings have lent themselves to fishing with nymphs. This has been the case on the large streams as well as the smaller brook trout waters.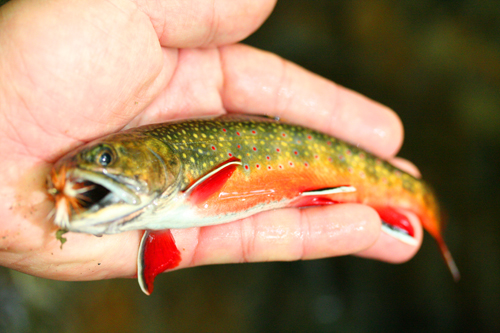 Do not adjust your monitor. Smoky Mountain brook trout are that bright & colorful
Fishing up high for Specks has really come on strong. Afternoons are best and our favorite fly patterns are Thunderheads and Guide's Choice Parachute Adams.
The smallmouth bite has really kicked off and we expect it to only get better with the warm weather forecast this week. We're using Clousers in a variety of colors right now but will start experimenting with poppers shortly. The deepest water has been the most productive lately and a sink tip fly line has made a big difference. As waters warm we'll start seeing the fish shallower.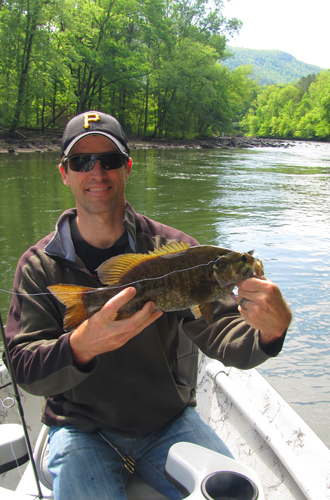 One of several quality smallmouth bass caught on a float last weekend
We also had an unusual bite this weekend while dreding up smallies in deep pools – walleye! That's a first for us, catching walleye on the fly, but it wasn't a fluke since we boated about ten of them.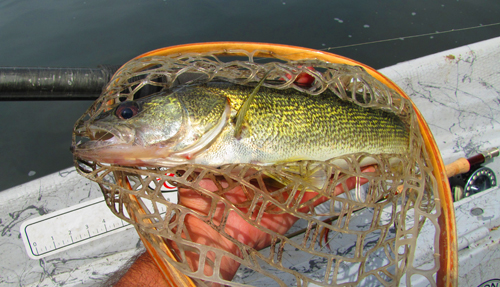 Coming back around to trout, the Holston has had consistent generation schedules and the caddis are hatching. This is some of the best dry fly fishing we get all year long. Most of the fish we picked up a few days back were in the 10″-12″ range, but we did pick up a couple of fish on nymphs that we taped at 16″.
We have a long week of fishing ahead of us, then it's TroutFest this weekend. We'll be speaking at 2:00 on Saturday and Sunday. Our program on Saturday will help fly fishers catch more trout in the Smokies. On Sunday our seminar is "Targeting Large Trout with Streamers". We'll see you there!