It's June and along with that comes a little bit of longing on our part for something just a little bit different. We'll admit it. We're spoiled. The pristine, wild trout streams of the Smokies are our office and home plus we spend an inordinate amount of time rowing a drift boat alongside rising trout. After a few months of doing that it's refreshing to go fishing, but do something just different from the work week.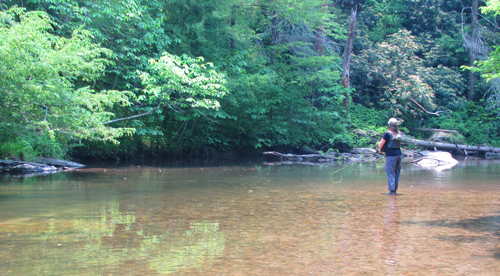 We're still fishing a creek, but it's flatter than most trout streams in the region and instead of trout we were chasing smallmouth bass. Dry flies? Not quite, but poppers are at least as good.
The stream is more local for us than we often care to realize and it's largely ignored because of its lack of trout. In fact, nearly everyone I've ever met fishing there was curious why the trout fishing was so poor.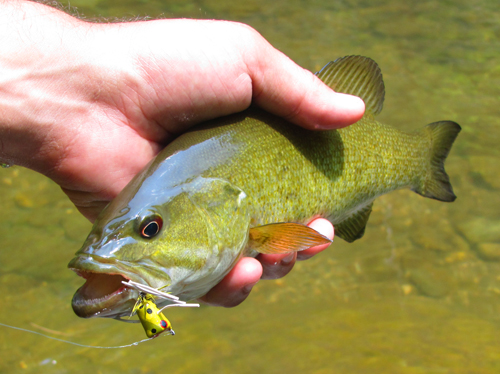 Fish like this were typical. I fished a popper and nothing else while Charity experimented with some buggers and Clousers as well. Everything worked really well, but the fish didn't exactly give it up. About half of the fish would come to the popper but quietly refuse while the other half quietly sipped it in. There weren't any crushing strikes on the popper, but the action was so constant I stuck with it.
Charity dredged the deeper slots and ledges with streamers. While it didn't seem like the streamer was as productive, it did seem to attract a little better quality fish. We both agreed the popper was the way to go. Charity was especially  emphatic on that point when she landed 2 smallies and 1 rock bass in a total of 3 casts.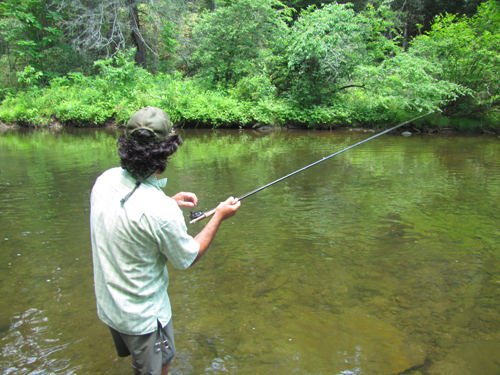 See you between chugs of the popper!