It's no exaggeration to say fly fishing is a big deal in our household. Both Mom & Dad are full time fly fishing guides and the kids are growing up on the front door step of the Smoky Mountains and its 800 miles of trout water.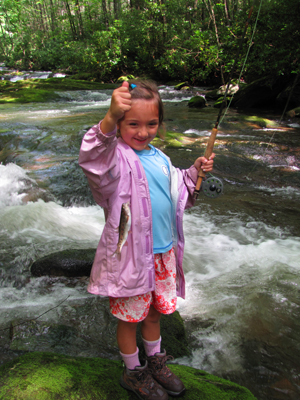 A rite of passage in the R&R family…
Our daughter recently turned 6 and she just caught her first "solo" trout. That is to say without assistance. She caught her first fish back when she was 3 and has helped us land fish when we go out together. Now she's very proud to do it without assistance.
We went on a father / daughter backpacking trip last week and did a little bit of fishing along the way. After helping her catch a fish she insisted that she could do it alone. I may have even been a little more surprised than the rainbow trout when she yelled out "I got one! I got one!"
Man do they grow up fast…
Even better, she caught the fish on an Elk Hair Caddis I helped her tie.