We've seen a good deal of rain lately in the Smoky Mountains of East Tennessee and Western North Carolina. This has led to unusually good conditions for fly fishing during a heat wave in late July heading into August. Water temperatures in many streams have been in the low 60's on down into the high 50's depending on the elevation.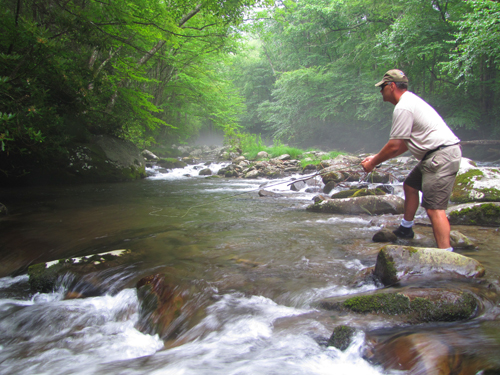 Even though afternoon temperatures are in the mid 90's across the Tennessee Valley, it's rarely been more than the low 80's along our trout streams. We experienced an awful drought a few years back so we're gratified to see such cool water temperatures and mild weather deep in the heart of the Smokies.
We're catching a good number of trout on dry flies, but nymphs have been a big part of the equation. Even when we're rising fish regularly we're finding even more willing fish if we tie on a nymph dropper. Our typical rig is a #14 – #16 Stimulator with a #16 Beadhead Pheasant Tail, Zelon Nymph, or Copper John about 18″ – 24″ under it.
The dropper isn't as important on the small streams, but it's pretty important on larger stream like Little River and the Oconaluftee. In fact, the largest waters on these rivers will fish best if you just go with nymphs.