There isn't any earth shattering change in the fishing conditions across East Tennessee and the Smoky Mountains, but for those of us who spend every day paying attention, the changes are noteworthy.
TVA hasn't been very cooperative this fall when it comes to generation schedules. We got out on the Clinch a few times, but the you had to be ready when the water was right because it wouldn't last long. At this point Norris Dam is pushing plenty of water but expect to see flows back off a bit in a few weeks.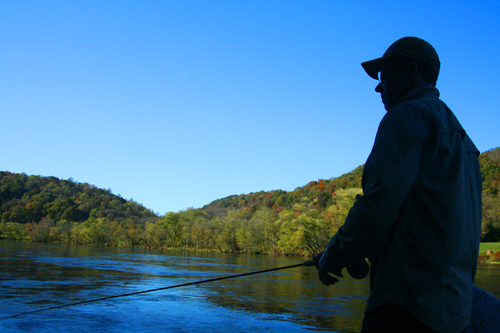 The quality of trout in the Clinch River has been excellent this year with plenty of fish over the 14″ mark and fish over 17″ as common as we can remember.
The Holston River below Cherokee Dam has had better schedules lately, but still nothing to brag about. Folks are always concerned about water temperatures and trout welfare on this river and let us put your fears to rest. Water temperatures coming out of the dam are 63 and there are plenty of trout in the river. We floated for smallmouth bass below Indian Cave a while ago and there were several trout coming to the streamers. The popular access at Nances Ferry is so far downstream that it is rare for many trout to stick around through the summer, so don't use this section of river as a measuring stick.
As always, fly fishing in the Smokies is great. Trout are still looking up since there are sporadic hatches of Blue Wing Olives and dun caddis. Brown trout have been spawing in the larger streams, but expect them to put the feedbag on when that's wrapped up. November is always the best month of the year to hook a better than average brown trout in the park.
We hate to say it, but the time for smallmouth bass has just about passed. You can still find some willing fish on the Holston River if you get good water levels, but other rivers like the Pigeon and Little River have gotten cool enough that those fish just aren't moving much.