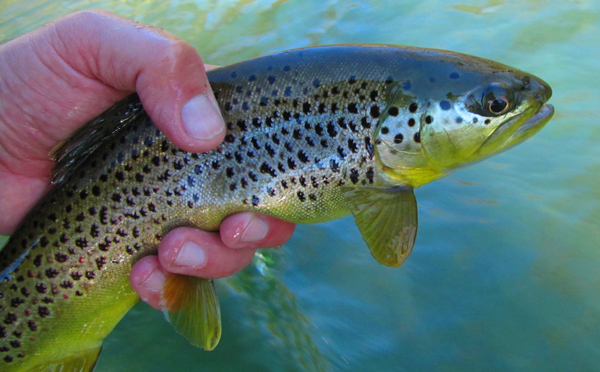 This past weekend I couldn't take it any longer and took the drift boat over to the Clinch River. Flows have been high for months now and while I wouldn't do a guided trip under these conditions, I just had to get out and row the boat on a pretty day. I can't say I'm exactly tired of fishing in the Smokies right now, but I've had the itch to get back on the tailwaters.
We stuck with streamers all day long. Action was best from Miller's Island down to around the I-75 bridge. I'm not sure what happened after that point, but we saw far few fish. The best fish we saw all day followed the streamer downstream of Peach Orchard.
There were a number of spots I would have liked to tried some nymphs fished deep, but with Charity out of town I was on a pretty tight schedule with my babysitter and didn't have much time to sit in any one spot.
Right now TVA's operating guideline for the Norris reservoir is far above the point where we can expect any moderate river flows for any extended period, particularly when you take a wet weather forecast on the horizon. It may be another month before flows subside outside of short, isolated windows.
On the contrary, the Holston River below Cherokee is looking good, but like Norris, the inflows could keep flows from the dam higher than ideal for a little while. It's usually early to mid-March when flows subside, but it looks like this spring may be a repeat of last year's when it was well into April before things slowed down.