Okay, a photo of a brook trout and another of bears from the Smoky Mountains aren't all that uncommon, but the circumstances around them are unusual.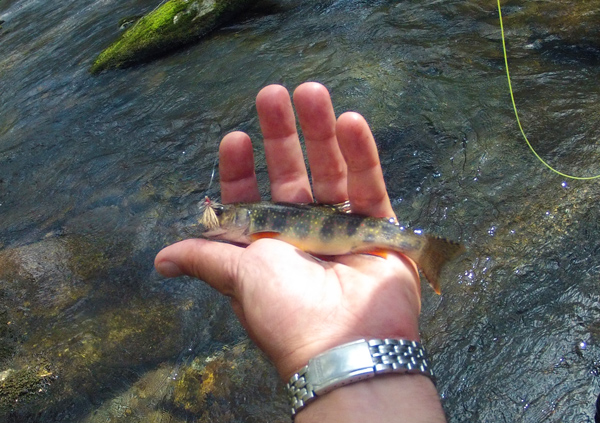 We take photos of brook trout all the time from April through October, but we don't usually take photos of them where this one was caught. I guided Chris and Chase Howard who were looking to do some backcountry fly fishing. I've taken them before and that time we specifically targeted brookies, but this time just went out for some larger water with a high degree of privacy.
This fish was caught about three miles upstream of the Little River trailhead. That's pretty far up, but I always tell folks you won't have much chance of getting into specks until you're more like six miles upstream of the trailhead. And that's just starting to get where you might catch one.  Even more interesting was this post from Dave Knapp which sounds like he caught another brookie in the same general vicinity.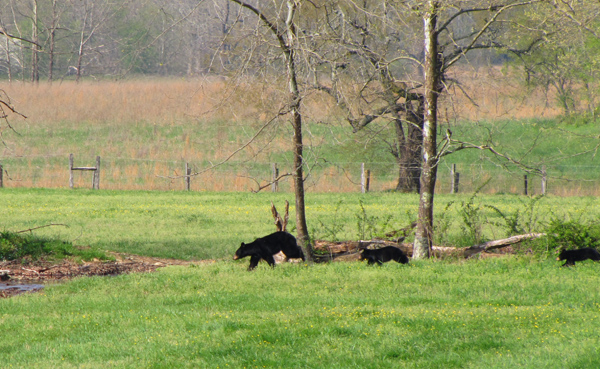 We probably see more black bears over the course of the year than most people see in a lifetime. In fact, we've already seen bears on four separate occasions this year. We've seen them near Elkmont, the Chimneys picnic area, and in Cades Cove. Most of the time it's very difficult to get a good photo of a bear because they aren't usually at close range and they don't usually stick aorund very long. Furthermore, their black coats blend in so well with the forest cover they don't usually show up well.
These bears were in Cades Cove and as you can see they were on a mission to get across the open ground and get into cover. There was a third cub trailing behind. These aren't new cubs but yearlings that were born last year. They will likely leave their mother later this summer.