It's been a wild and busy summer season for us here in the Smoky Mountains of East Tennessee. As many of you know who have been following us for years, fishing reports can get few and far between during our busy times, but this year has probably been our worst yet.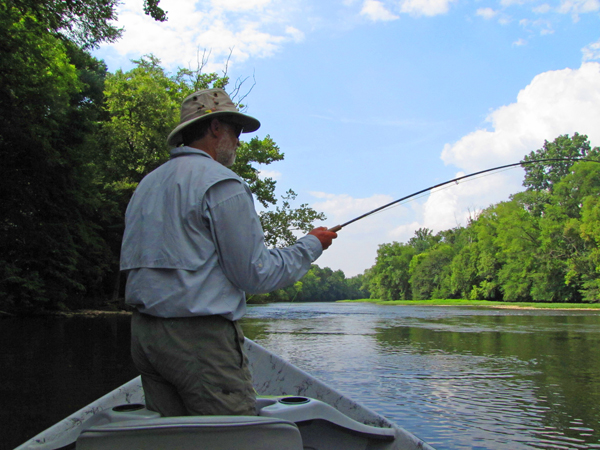 Ian's view from the office during a recent float trip
We've been almost everywhere where there's water, trout, or smallmouth bass in East Tennessee over the past month. There have been tons of fish, a few big ones, and some unusually crazy weather amid all of this. Townsend and our quarter of the Smokies endured a brutal storm that brought down thousands of trees, closed roads, and knocked out power.
This wasn't necessarily the way we would have chosen it, but that signaled the beginning of a wet period that has brought us much cooler weather and optimal stream flows. We have tons of pictures to share and plan to post them in the coming days along with a newsletter.
Trout fishing in the Smokies is currently the best we've seen in a couple of months. Cool water temperatures and good flows have made the trout happy. However, expect them to get a little flaky as the thunderstorms start to build in the afternoon. We've noticed this any time the skies darken. They don't completely shut down, but there is a distinct lull in the action as the skies darken.
Tailwater flows have gotten pretty consistent lately and are pretty good regardless of whether you're wading or floating. Dry fly fishing is pretty rare now that we're in the midst of summer, but nymphing with small beadheads and midge patterns is consistent.
This is the peak of the season for smallmouth but recent rains have us keeping an eye on the different streams. Most of these rivers can get pretty muddy after a heavy rain so we're not falling in love with any one stretch of river since we have to move around quite a bit. Popper fishing has been superb whenever the water is clear and we expect this to last well into October.
Keep checking back. We have much more to post.