All too often the magazines show pictures of anglers holding big drippy trout, but rarely is the real story behind the fish told. Let's start with Tom Ellison's hero shot of a 19″ rainbow trout he recently caught on a float with Ian.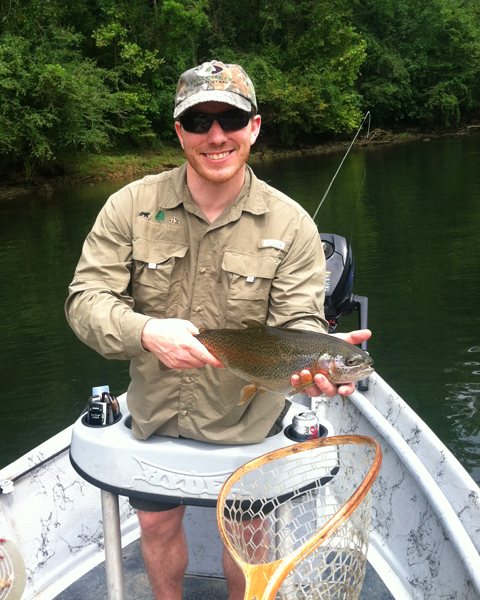 It really was the stuff of legend. The fish ate a #18 caddis emerger and we spotted the fish rising several minutes before the cast was even made. The boat was positioned within casting range, but no so close to crowd the fish and make it uncomfortable. Tom made a single cast, the big rainbow casually rose to the fly, paused ever so momentarily, then slurped the tiny dry off the surface.
We had to follow the fish some distance down river as it peeled line off of Tom's reel and made us all a nervous wreck before it finally came to the net. Did I mention that this was also Tom's first outing with his brand new Scott G2 8'8″ 4 weight? Good stuff….
Here's the back story. Tom lives in and works in Paris, France and doesn't get to do much fly fishing except when he comes home to visit family in the United States and spend time in the Smokies. Every experienced angler knows you have to occasionally suffer for the fish, but Tom and his father have become known as the "Smoky Mountain Drought Busters" to the guides at R&R Fly Fishing. Every year when they camp at Elkmont they endure the wettest conditions of the summer season.
This year was no different. That day was no different. See for yourself.